Take Back Local
Statesville's Marketing Conference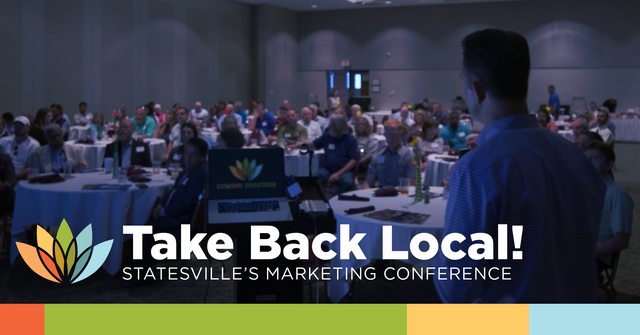 Description
JOIN US at the Statesville Civic Center on Monday, February 20, 2023 from 8:30am-5pm for Statesville's inaugural Marketing Conference - Take Back Local!  This event will feature hands on training by Brian Ostrovsky. 
Brian is the founder and CEO of Locable as well as the author of "Marketing 3-4-5™: The Business Owner's Guide to Effective Local Marketing in 15-Minutes or Less." He grew up in the small Gold Rush town of Placerville, CA, which has a quintessential Main Street, and saw how important community is to the people who live there and has been dedicated to helping it thrive in the face of whatever challenges arise. Brian has taught Marketing 3-4-5™ to thousands of small businesses with dozens of local workshops with Main Streets and state programs around the US - including a 27-month cross-country tour.  We are excited that his travels have brought him to Statesville, NC to provide us with hands on training that you won't want to miss.  
Here is a look at our AGENDA:
Please plan to arrive by 8:30am to get your coffee, pastry and take your seat.  The presentation will begin promptly at 9am. 
9am - 10am Come Together - Community Round Table Coffee Session
Enjoy coffee and pastries while hearing from leading organizations in Statesville, NC.  Learn how they are working together to help grow Statesville and how you can best work with them as well as some time for Q&A.  Speakers include:
10am - 1pm Take Back Local - Marketing 3-4-5 ™ by published author Brian Ostrovsky Founder of Locable.  (Breaks will be offered during session).
1pm - 2pm - Catered Lunch by JD's Market & Catering

2pm - 4pm -  Locable 'Boot Camp'  - Get ready to EXECUTE!  Bring your computers and take advantage of hands on training from the teams at Locable and Spokeology.  Before you leave for the day you will have had the opportunity to put to use some of the tools you have gained during the morning session.  We want to make sure you are CONNECTED to the community!  
Are you ready to TAKE BACK LOCAL? 
Seating is limited. Register today to secure your spot. Registration for Marketing 3-4-5™ and Lunch is required to attend.