Linney's Water Mill
---
Article by Kristie Darling
Photo: Billy Linney
Did you know that a miller rolls and rubs the milled grain between his finger and thumb to see if it's smooth or rough, if it's good or not so good? That's the Rule of Thumb. Billy Linney's grandpa taught his dad this, who, in turn, taught Billy.  Billy Linney is third generation miller at Linney's Water Mill in Union Grove. The Linney Family's life on Rocky Creek is inspiring and fascinating…a history lesson that's possibly new information to many of us.
Keeping It In The Family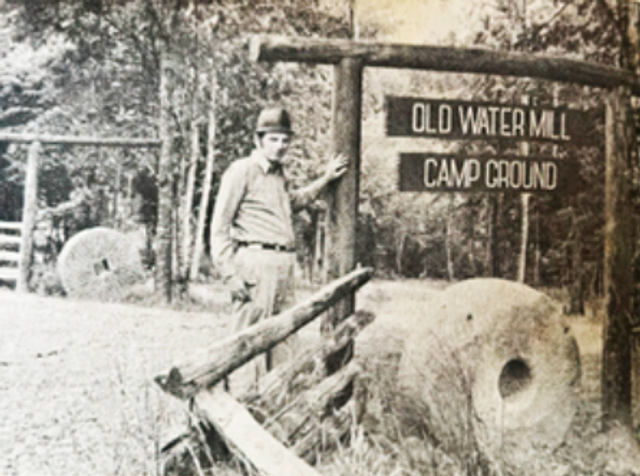 In the late 1700s, William Coplin Linney was the first of a long line of Linneys to settle in North Carolina. Back in the day, pioneers would settle where there was a good-sized creek or river with serious running water…they needed it for power. Water-powered grist milling was the first industry in the colonies. In 1790, Richard Cook built a mill on Rocky Creek. When Cook's widow, Lucy, married Randolph Mayberry, the name changed to Mayberry Mill, and it operated as such until the early 1930s. "My grandpa bought Mayberry Mill in 1934," Billy shared, "but there wasn't much left of it. At one time, there were 11 mills operating along the 20-mile stretch of Rocky Creek where farmers could haul in their grain to be ground into meal and feed."
Three years later, William Talmadge Linney, built the water-powered grist mill that's still in commercial operation today. He started construction working from what was left of the original, 147-year-old structure and situated his waterwheel downstream of his brand-new dam, just west of the current Alexander-Iredell County line.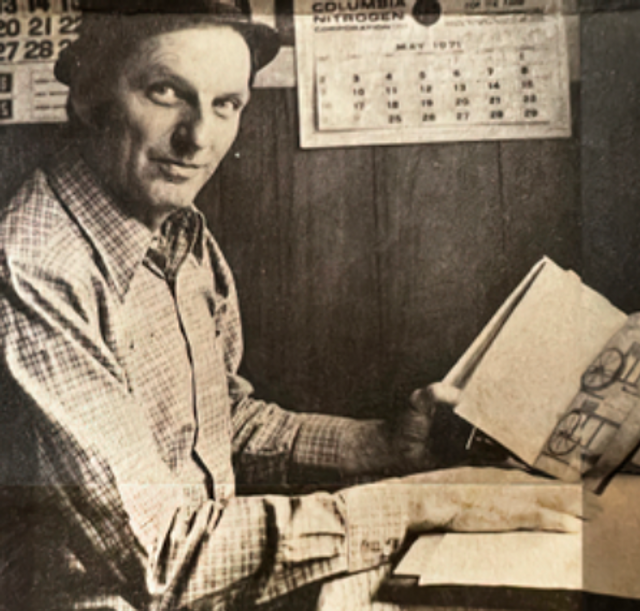 In the mid 1940s, Rocky Creek was running high, lots of water over the dam every day, and W.T. needed a wheel with more power. He bought one from Jennings' cotton gin in Union Grove, about 10 miles downstream. His new, but previously owned, wheel was a 9-feet wide by 19-feet in diameter Fitz overshot, all-metal. "He took all the rivets loose, numbered the pieces and parts, cut it all apart, hauled all the sections back up here, and put it back together," Billy said. Today, inside the Linney Mill building you'll find piles of big bags ready to fill, heavy bags of grain, the grinding stones housed in a metal cabinet, and the hopper above feeding corn into the grinder…and corn dust everywhere. If these decades-old, worn wood floors could talk, they'd have a captivating, inspiring story to tell.
Happy Anniversary!
Grist mills date back to 1621—America's first was in Jamestown, Virginia—and Linney's is North Carolina's only water-powered mill still in business, thriving commercially, making meal every day.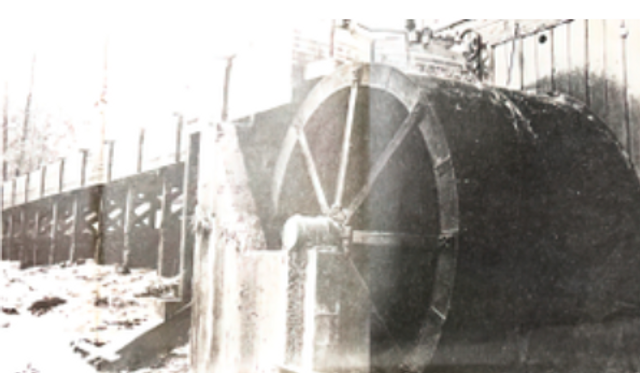 In 2022, the Linney Family celebrated 86 years in the milling business. The mill's current side-by-side pink granite stones—most likely from Salisbury, NC, a pinkish monzogranite, quarried from the Early Devonian period, 411 million years ago—one stationary, one that moves, have been grinding corn for grain and feed close to 50 years. "We sharpen and resurface them, so they've probably got another 25 years more before they need replaced," Billy said.
"The big one is 30 inches, and the other is 20 inches. They're balanced upright, like wheels on an axle, with a shaft running through their centers. Water, pouring over the water wheel outside, turns the shaft, which turns the stones against each other, and the stones grind the corn between them. There's only about a 3/8-inch space for the grinding."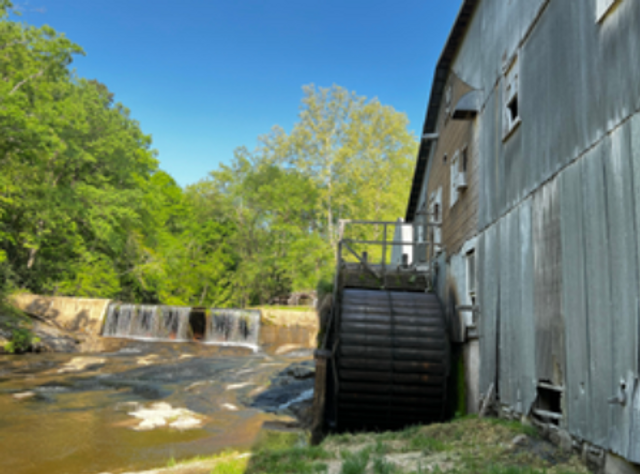 W.T.'s son, William Copeland Linney IV, joined the business in 1954, and his son, Billy (William C. Linney, V), now runs the entire operation with the help of his wife, Juanita, Roger Hollar, who works part-time, and bookkeeper, Sandy Payne. "I started working at the Mill when I was about 13," Billy remembers. "Mostly cleaning, sweeping—it's stays real dusty all the time. There was too much work to do for me to play football. By 14, my sister and I were cleaning grass seed and anything else we were told to do. 
I could drag the bags but couldn't lift them to empty into the cleaning machine." In 1985, Billy took over management from his father, who continued working at the mill another 20 years. "Dad would always remind me, 'I'm the boss 'til I'm dead,'" Billy said with a smile.
You can find all the Mill's products—ground corn meal, chicken and fish breading, pancake mix—and lots of grits—in Linney's Mill Store that's open beside the mill building. This country store is nothing fancy and it shows its age in style and décor. The desk is piled high with notebooks and tablets, handwritten receipt books, telephone books, and an old calendar on the wall…all manner of what's needed to run a business the old-timey way. What you won't find so much is a computer, but there is a fax machine. It's a walk back in time with its 1940's look and feel. If it wasn't for the tee shirts, CBD oil, and cooler full of ice cream bars and canned soda, you'd think you were in a flash-back. All variety of baking flours, biscuit mixes, Amish jams and jellies, honey, real maple syrup, BBQ sauce, kraut, salsa, home-canned pickles, chow-chow, even jalapeno pickled eggs in a big jar. Amish sipping vinegar herbal tonic—only 1 carb—for acid reflux and whatever else ails you, sells out. Baskets for sale, beautifully handwoven by Juanita's mom and her sister, fill several shelves.

Billy's Stories About Famous Moments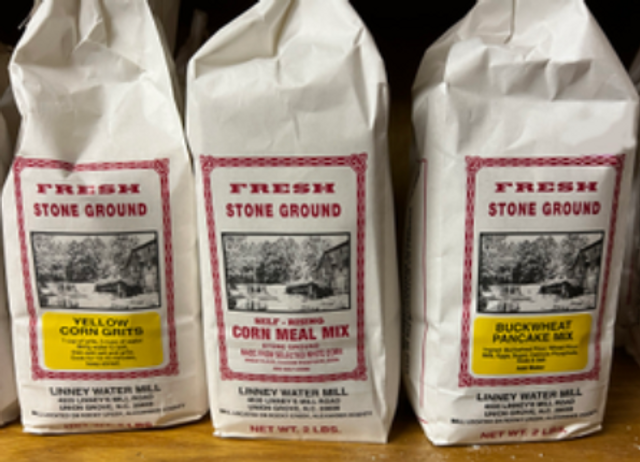 You want to hear these stories straight from the horse's mouth, so to speak, so when you visit Billy, be sure to ask him about Junior and Flossy Johnson's visit back in the day; his hot air balloon tether in Malcolm Forbes' balloon; Eric Church, who told Billy he was planning on getting famous in Nashville one day; and Oprah's California party, when she served Linney's Mill grits…an 80 pound bag, shipped by air for $600. Just ask him.
A Community Treasure
Linney's Mill swimming hole has been a North Iredell destination for generations. "Several local churches still have baptisms here, like Jesus, in our river," Billy said. "I've seen them get fully immersed down there when ice had formed along the banks…a true test of spirit. My family is truly grateful each and every day for all these years of hard work, good neighbors, our loyal customers, and this family business that still prospers—even in the 21st century."