Property Matters, Because People Matter
---
Meet Bryan K. George with By George Construction
Article by Catherine Diehl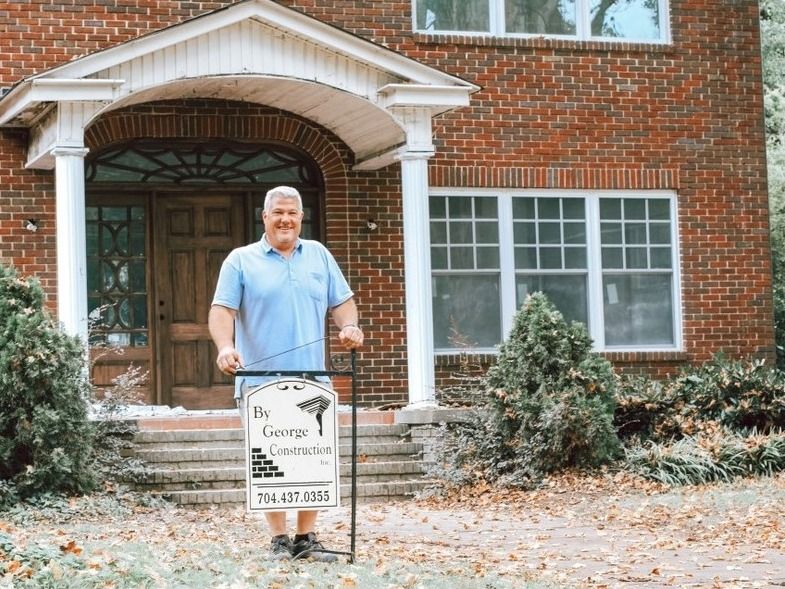 Property Matters was founded by a man who couldn't believe in the name anymore than he already does, Bryan George. "I love that name," said Bryan, looking down at the ground as a gentle smile moved into his cheeks. "Property does matter," he said, and once you spend any amount of time with Bryan, it's evident to see that he is filled with passion for his job and family, a genuine heart for others, and a kindness that is felt and seen in every action. Every step he has taken in his life has led him right to this very ideal season where he gets to do what he loves and be there for the ones he loves.  
Local contractor, Bryan George, has had North Carolina blood running through him since he was one years old when his dad moved his family to Statesville, North Carolina for his job. Since then, the bond between his heart and North Carolina red clay has only deepened.
How it all started
After graduating from the University of North Carolina with his BA, Bryan returned home to Statesville to sell insurance and investments for his dad's college roommate. While it was a really great opportunity for Bryan, he wasn't doing what he loved or what he was called to do. Before he even had another job, he left and fate found its way into Bryan's life. "My dad managed the Glidden Paint store. While I never saw him hold a paint brush, I knew how to paint and hang wallpaper. I was doing really well, I had lots of work, and I happened to be in his store picking up a load for my next job when this man comes in and he's wearing a back brace. He had broken his back. So I offered to help him load his truck and he asked who I was and after I told him, he said come see me," and Bryan did just that. He found out that he managed a lot of property and Bryan ended up working with him for about five years. The main job was in managing property, but it turned into more construction management. He got his broker license, real estate license, and general contractor license in the mid 90's. When Bryan's boss wanted him to buy the business, Bryan realized that he wanted to build his own business. He found a partner and that's when Property Matters was created.
Property Matters
"We were full service real estate and construction, we were unlimited with what we could do," Bryan said as if reliving those memories. Some of Bryan's bigger projects under Property Matters include building American Renaissance Charter Middle School and creating the space that is currently occupied by Groucho's Deli and his partner focused more on real estate. After about five years of running Property Matters, Bryan wanted to rebrand and start with something new- something that was completely his, which is when he started By George Construction, Inc.. He began working more on residential than commercial projects, and now it's just him and everything is 'By George.'
"I was at the bank the other day and a random lady at the bank opened her window and said, 'I like that name!' and I said well it helps that it's my last name!" It's a good name, it's subtle, but it makes you really want to know who George is.
"I started full time in May of 2006. I bought my first house to flip and it was just one block from my house." He hired the guy that lived next to the house he bought and he has been working for Bryan ever since. Bryan's first flip was a two-bedroom, two bath and he turned it into a three-bedroom and 2.5 bath. He went in with the mindset that, "if I was going to do this, I didn't want to be a flipper who does a little crown molding and paint. I only want to buy houses in established neighborhoods. I didn't want to flip just to make a buck, I only want to flip to bring the neighborhood up. So, when I hand the new homeowners the keys, they would have a house they can live in for at least 10 years and not have to worry about anything because it had all been addressed."
Family Matters. People matter
While it was not until his sophomore year in college that they went on their first date, Bryan met his wife, Sherry, in middle school. She was a cheerleader and he was a football player. November of 2020 was their 25th wedding anniversary.
Bryan and Sherry have three daughters and these 4 girls are Bryan's evergreen smile and his evident pride and joy. When he talks about his family, everything else that he talks about makes sense. It's clear to see where his passion comes from and why he has such a heart for helping others. His face lights up and you can almost hear his heartbeat as his smile tries to subtly hide his happiness and love for his girls. His heart eradicates and directs everything Bryan does because it's a part of who he is. 
"My job, what I do for a living,  works well because I feel like I'm helping people. That's a big deal to me. I also do a lot of stuff that no one knows about. If I know something needs to be done, and this is like at church - older ladies or anyone really, I gotta have that. I gotta have that feeling like it's helping people. 'Do what you love and the money will come.' I'm grateful I get to keep doing what I love."
Not only does he make sure things are done for others, but he is sure to put his family first. "One of the reasons that I continue to do this job, and this job specifically really, is because if I'm needed to do something for my family, I can do it."
Construction found him
Bryan didn't really go into his dad's store or grow up thinking he was going to own his own construction business. It just sort of evolved. "I went from managing property to more of a construction management to where I said, well shoot, I can start something from scratch or I can take your design and give you what you want," and that's exactly what he did. Ever since then, he has been creating masterpieces for so many neighbors across Iredell County.
You are a very passionate person, "I am," and that passion stems from his desire and love for creating. "I love creating. I can see something done and if you tell me how you want something to look, I can draw it and it'll be pretty darn close to scale and what you want. I think that makes me pretty different."
Not only is Bryan incredibly gifted with construction, design, and creating beautiful creations for others, but he also draws, does calligraphy, and sings. "I love creating, I love design. I have a respect, too, for history and real estate and materials, and I really like good stuff done well. It can be challenging - I have to do what the customer wants, because it's what they pay me to do. But if they ask me, I'll tell them and I think people appreciate that." After being around Bryan, you can definitely count on him to be the one who tells you the truth and guides you.
It's not all about the big stuff
Bryan absolutely loves his job, but his happiness isn't just found in the big houses or the big buildings, it's also in the smaller things, because if it's helping, then it's worth it. "Someone asked me the other day if the project they were asking about was too small, and I said, anything that has to do with property, if you think of me first, if I can't do it, I assure you I know someone who can," because to Bryan, he just wants to see things improved and he wants to help everyone who's involved in the process. When it comes to property, nothing is too small to him.
The job requires a lot of trust and a lot of faith in the one you've hired to either start from scratch or to fix some things around your house. With Bryan, you can have trust and faith in knowing he will be fair and thorough and will complete the project without shortcuts. "What's kinda cool is I've gotten to the point now where a lot of people will just say 'do your thing.' You pick the fixtures, you pick the paint colors, and that's happening more and more. I'll do something and if you don't like it, I'll change it." To Bryan, each job is "just kind of a blank canvas that you can make your own, you can personalize it," and after seeing one of his projects at 455 Sullivan Rd., he makes a blank canvas a beautiful masterpiece.
455 Sullivan Rd.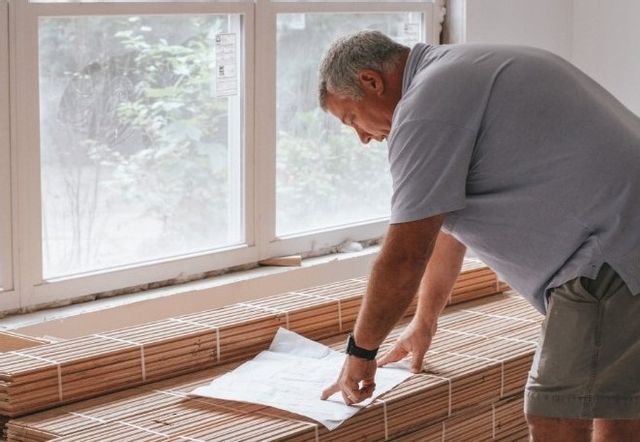 The grandness and distinct power of this house is found in its size and its defined red brick, but once you take one step across the entryway, the interior of the house hugs you. Even in the unfinished state, the warmth of this house is undeniable and there's no question that it's because of the work By George Construction has done.


Thanksgiving of 2019, this house didn't look anything like it does now. Smoke from a fire owned almost every inch of this house and because of it, it took the life of the family's dog, Max, and left a family without a home. The Balatow family was away visiting their daughter last Thanksgiving when they received a phone call from their neighbor. The call was a gut wrenching one, letting them know that their house was on fire. They came back from what was meant to be a time of joy, to finding out that Max took his last breath and 75% of their things were completely destroyed. They needed to find someone to bring their home back to life and the decision was an easy one for Bill Balatow. He hired Bryan George to be their contractor, and now almost a year later after the demolition and restoration company finished their work, the house is almost ready to welcome its owners back inside.
After pouring his heart and soul into this house since July, Bryan said, "I'll be glad for them to be back in their house and for them to have a home again. For them to have lost so much, to be a part of rebuilding their home, I appreciate the opportunity to do it."
It started with a handshake
Bryan's passion starts with his handshake. His strong hands seem almost protective as he embraces your hand to shake it. The Balatow family lost their home, but Bryan has dedicated his time, energy, and heart into making these walls a safe haven again, and this desire is clearly rooted in his sense of love for those around him. Bryan immediately welcomes you into this space that he has poured hours of labor into, and with every word he speaks, the vision he has for this home is clear. This house is no longer going to be known for what happened here, but what is going to happen here- what is going to become of this place.
The door that blocked off the inside of the home was made out of two pieces of wood that clearly didn't belong. When Bryan started talking about the new door that was to be installed, it was as if the house itself became happier. Now that the new door adornes the front entrance, the house is radiating with its smile as the sun peers through the glass. The door that now frames the entrance is made out of mahogany wood with beautiful insulated glass accents along the sides and an elliptical top, defining the house- welcoming, open, and filled with an undeniable light and character that can't be broken. 
There's a saying, "The more broken something is, the more light comes in," and it is true of this home. It was burned, gutted, and reframed, but with the bigger walkways and large windows gracing the house everywhere you look, light is all that you see from side-to-side of this beautiful house.
Property Matters because people matter
This saying couldn't be any truer for Bryan George. He has spent most of his life authenticating this truth in everything that he does, and in every relationship he makes. Bryan is not only a crafted and skilled contractor and designer, but also a dad, a husband, and a man of great character. "I'm gonna do what I say I'm gonna do," said Bryan, because he builds for you, listens to you, and creates new and safe havens for those who have lost their sense of safety or sense of home. He brings purpose to every project, and when he gets to help others in the process, it makes every second worth it. "That's what I do. I fix stuff- I solve problems." If you have a problem you need solved, look no further than By George Construction. Bryan is your guy for all things property, because you matter.