City of Statesville Recognizes National Public Works Week
---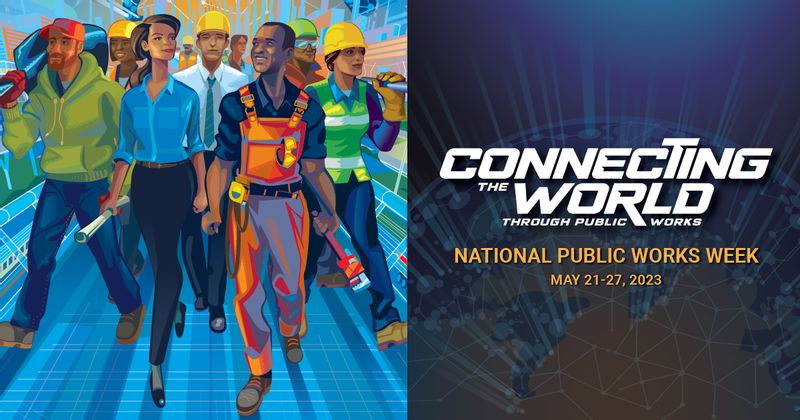 Statesville, North Carolina | May 21, 2023
City Recognizes National Public Works Week
May 21-27, 2023
During the May 1 City Council Meeting, Mayor Costi Kutteh proclaimed the week of May 21 through May 27 as National Public Works Week (NPWW). NPWW was instituted as a public education campaign by the American Public Works Association (APWA) in 1960, and calls attention to the importance of public works in the community. The 2023 theme for NPWW is "Connecting the World Through Public Works," and highlights the way public works professionals connect us physically, through infrastructure, and inspirationally, through service to their communities, whether as first responders, or daily workers carrying out their duties with pride.
The City of Statesville's Public Works is made up of six service areas—Streets, Water Resources, Water and Sewer Maintenance, Stormwater, Sanitation, and Fleet Maintenance.
Statesville's Public Works Team:
maintains 142 miles of streets by providing repair services for sidewalks, curb and gutter, shoulders, pavement, potholes, and street sweeping
runs the Water Plant, which is permitted to treat 15 million gallons daily, and the Wastewater Treatment Plants, which on average treat 3.9 million gallons daily
maintains approximately 274 miles of water lines and 278 miles of sanitary sewer lines
provides overall stormwater management to prevent flooding and protect water quality
provides weekly residential solid waste and recycling curbside collection
performs maintenance and repair of city vehicles
Public works first responders keep communities functioning and are ready at any given time to respond to natural disasters and other emergencies. They are often the first ones in and the last ones out! Join us in celebrating the quiet work these professionals do that makes life better for all of us.
---
Originally posted by City of Statesville via Locable

City of Statesville
227 S. Center St., Statesville
Statesville, NC 28677
(704) 878-3583
www.statesvillenc.net
Proudly Associated With