Taste The Good! 🍫
---
Groucho's® Deli is honored to announce its newest partnership with Sweet Street to offer a Toffee Blondie & a Gluten Free Brownie!
Groucho's® Deli is NOW offering a Toffee Blondie Crunch & a Manifesto Gluten Free Chocolate Brownie from our friends at Sweet Street in all 30 locations across South Carolina, North Carolina, and Georgia!
In keeping with the Groucho's Deli mission to offer the highest quality products to our patrons, we were delighted to partner with another great company that focuses on providing "cleaner, more wholesome offerings". Our new friends at Sweet Street use only Non GMO ingredients, no artificial colors, no artificial flavorings, no trans fats, no high fructose syrup, and no alcohol.
"In 1979, in Reading, Pennsylvania, Sandy Solmon started baking classic American cookies in a 2-bay garage.
Today, Sweet Street is the leading innovator in the dessert industry. They are still owned and operated by Sandy and headquartered in Reading where Sandy is also the head of research and development, leading a team of like-minded, passionate researchers and recipe developers who now bake for restaurants in over 60 countries, on every continent." They also have an additional manufacturing facility in Greenville, South Carolina.
"For Groucho's, thinking and acting sustainably means accountability to the environment, our communities, general health and wellbeing, and profits." said Deric Rosenbaum, Groucho's Deli Franchise "We believe this approach will provide safety, efficiency, accountability, profits, and longevity that protects our franchisees, employees, customers, communities, and the environment-both now and in the future. We invite you to TASTE THE GOOD!"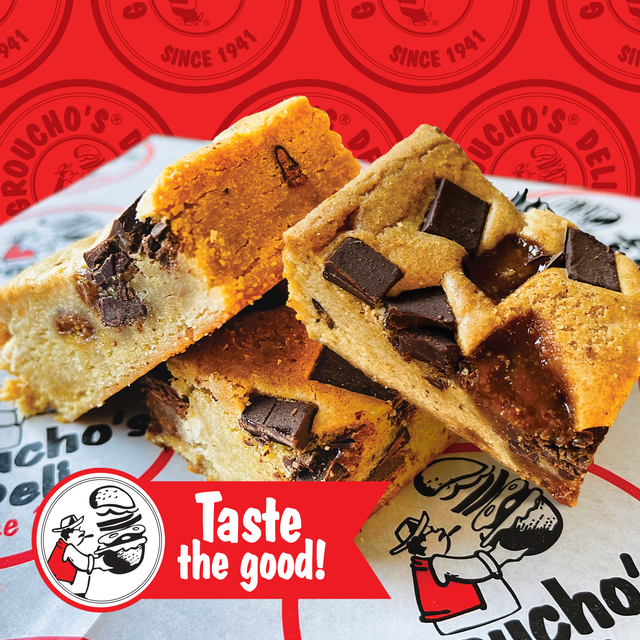 Toffee Blondie Crunch
Sweet Street buttery blondie studded with creamy white chocolate chunks and loaded with semi-sweet chocolate and chewy pieces of toffee.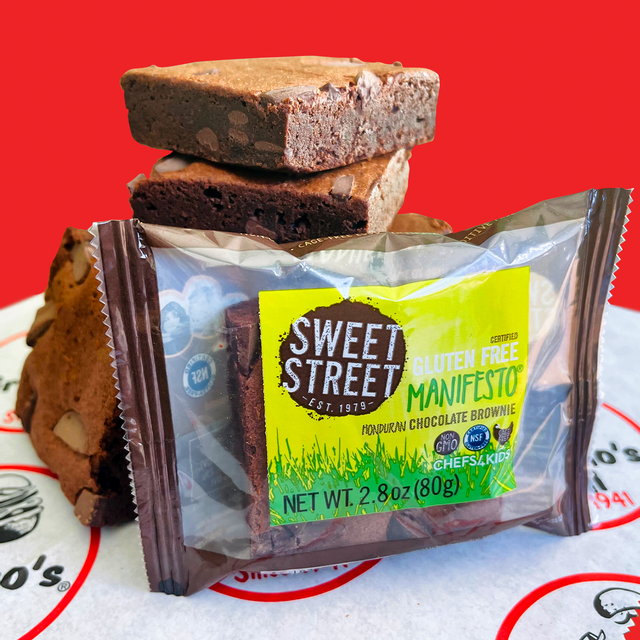 Manifesto Gluten Free Chocolate Brownie
The Sweet Street Honduran Chocolate Manifesto Brownie is made with the goodness of cage-free eggs, gluten-free flour, and sustainable chocolates. With pure Honduran dark chocolate, sourced from a cocoa collective of women farmers, blended in every batch, this chocolate brownie tastes rich and fudgy in every bite.
Why Sweet Street!?
With a Mission Statement reading "The Power of Good Food Shared™", we believe Sweet Street shares the Groucho's Deli belief that you can "Taste The Good" and so the partnership just made sense.
"But Sweet Street is about more than great food. Above all, we are dedicated to creating a safe, dynamic and gratifying environment so compelling, our customers, suppliers and co-workers want to participate in achieving mutual success. By continuing to conduct ourselves with the utmost integrity and by anticipating the best interest of these valued people, our company's sweet success is certain."
Sweet Street - The Power Of Good Food Shared
"We've dedicated our hearts and souls at Sweet Street to making luscious desserts made with wholesome, natural ingredients…an indulgence to feel good about. In this spirit, we are excited to partner with Groucho's Deli and share sweetness with you all." - Jennifer Matten, Brand Strategy Manager
Available Now!
Stop by your neighborhood deli to give these delicious treats a try or Order Online Not In Line ™ to pick up all of your Groucho's Deli favorites to go at www.grouchos.com or via our mobile app!
#GrouchosDeli #YourNeighborhoodDeli #FastFreshOriginal #TasteTheGood #SweetStreetOMG #ShareSweetness

Originally posted by Groucho's Deli via Locable

4.9
(9 Reviews)


Statesville - Groucho's Deli

101 E. Broad Street
Statesville, NC 28677
704-871-2828
www.grouchos.com

Mon, Tue, Wed, Thu, Fri, Sat

11:00am- 8:00pm
Proudly Associated With