Groucho's Deli is proud to partner with the multi-generational bakers at Annie's Bakery
---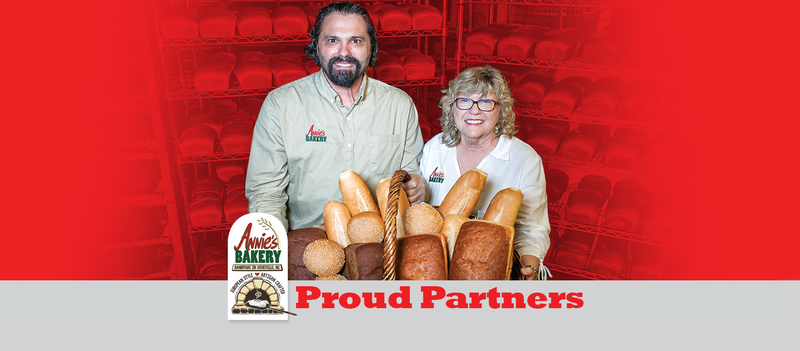 Groucho's Deli, with 30 franchised locations across South Carolina, North Carolina, and Georgia is proud to partner with multi-generation bakers at Annie's Bakery in Asheville, NC to offer all natural, Organic & Non- GMO ingredients to their valued customers. Annie's breads offer long fermentation, zero additives, zero preservatives and zero trans fats.
In July 2018, all Groucho's Deli locations began the transition of their current breads to Annie's. This included sub rolls, soft seeded buns, Jewish rye, pumpernickel, multi-grain wheat and country white breads. Groucho's white and wheat sub rolls for Groucho's trademark dipper style subs where also included in this transition.
"Groucho's is proud to partner with the multi-generation bakers at Annie's Bakery in Asheville, NC, to deliver regional handcrafted & high quality breads." said Deric Rosenbaum, of Groucho's Franchise Systems. "Annie's only uses natural & nutritious ingredients to make great tasting bread that's good for you. They truly elevate the craft of bread one loaf at a time."
"The team at Annie's Bakery is excited about our newest partnership." said Annie & Joe Ritota. "With the addition of Groucho's breads to our production, we are looking towards year another plant expansion and adding new jobs."
About Annie's Bakery
Annie's Bakery is a wholesale bread bakery in Asheville, NC that crafts high quality artisan bread the old-world way. Annie's doughs are created with a long fermentation. This process takes 48-72 hours and breaks down the gluten proteins making Annie's bread easier to digest. Annie's breads are free from preservatives and additives.
In addition, Annie's uses an array of nutritious ingredients such as stone-ground whole wheat and locally milled rye flours, ancient grains, blackstrap molasses, seeds (millet, flax, and sunflower), and rolled oats.

The result is great tasting bread that is good for you!

All-Natural Ingredients • Hand-Crafted • Long Fermentation

Zero Additives • Zero Preservatives • Zero Trans Fats
Originally posted by Groucho's Deli via Locable

4.9
(9 Reviews)


Statesville - Groucho's Deli

101 E. Broad Street
Statesville, NC 28677
704-871-2828
www.grouchos.com

Mon, Tue, Wed, Thu, Fri, Sat

11:00am- 8:00pm
Proudly Associated With