Statesville Unplugged: The Evolution of a Unique Music Community
---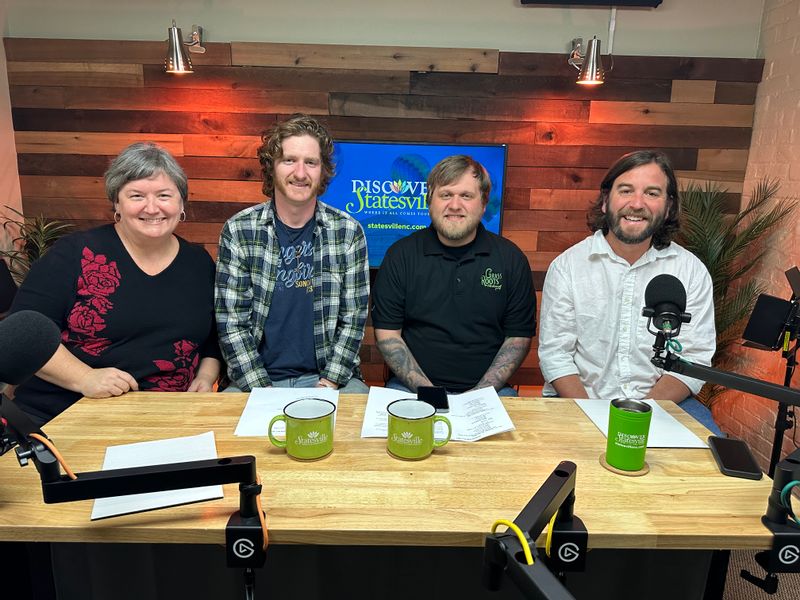 Welcome to another episode where we promise you a rich, vibrant journey into the heart of Statesville's music culture with our special guests, Brian Olson and Josh Loftis. As the brains behind Roots in the Round, they're pioneering a revolution in the local music scene in-the-round, one show at a time. These unique platforms allow songwriters to share, collaborate, and network, weaving their stories into heartfelt songs and fostering a sense of community that's truly one-of-a-kind.
But that's not all. We're also lifting the lid on their latest innovation - Singers, Songbirds & Songwriters - a four day Festival aimed at giving fresh talent a platform to shine. Imagine workshops, dance parties, and brunch events - all teeming with new voices ready to take the stage. We also delve into the workings of Grassroots Entertainment Group, an audio and video production juggernaut committed to redefining traditional venues and making their services accessible for everyone.
Bryan and Josh spill the beans on their upcoming festival, giving listeners an exciting insider peek into their future endeavors. Join us for an exhilarating exploration of music, creativity, and community, and witness firsthand the incredible journey of these dedicated advocates of local music. This isn't just an episode - it's a celebration of the pulsating, vibrant heart of Statesville's music culture, a testament to Bryan and Josh's unwavering mission to elevate it to new heights.
Learn more about Grass Roots Entertainment here and Roots in the Round here.
Read more about Brian Olson and Josh Loftis in Roots in the Round: Local Nonprofit Strikes Chord for Musicians and Community here.
Watch the Full Episode:
Listen to the Full Episode:
Discover Statesville - The Show
Discover Statesville - The Show is co-hosted by Community Advocates, Richard Griggs and Cindy Sutton. This weekly show brings you the pulse of Statesville, recording live at various spots throughout Statesville, and in partnership with So Media Studios. Join Richard and Cindy as they uncover the hidden gems and local treasures that make Statesville truly special.
From the top notch attractions and exciting events to the remarkable individuals who shape the community, Discover Statesville promises to leave no stone unturned. Hungry for a culinary adventure? Tune in for their delightful restaurant reviews where they will guide you the best places to eat in town.
Whether you are a resident or a visitor, this show is your ultimate guide to all things that make Statesville great. You're invited to come along on this immersive journey as Discover Statesville brings you closer to the heart of our vibrant town. Be prepared to be entertained, inspired, and enlightened each week as Richard and Cindy share their passion for all things Statesville.
If you know of someone that would be perfect for our Discover Statesville Show, we encourage you to go to www.statesvillenc.com/contact-us to send us your or their information. Be sure to check out all the fun things to do here in Statesville, North Carolina.
---