The Alluring World of Alpaca Farming: Javi and Val's Tale
---
Ever wondered how someone transitions into being a seasoned alpaca farmer? That's exactly what our guests, Javi and Val from Serenity Alpacas, accomplished. They're here to share their captivating journey from owning three alpacas to managing a thriving herd of 36 in Stony Point, North Carolina. They've encountered interesting challenges, learned about the unique needs of these endearing creatures, and even organized national events like National Alpaca Farm Days. The tale of their success is an inspiring testament to the unexpected turns life can take.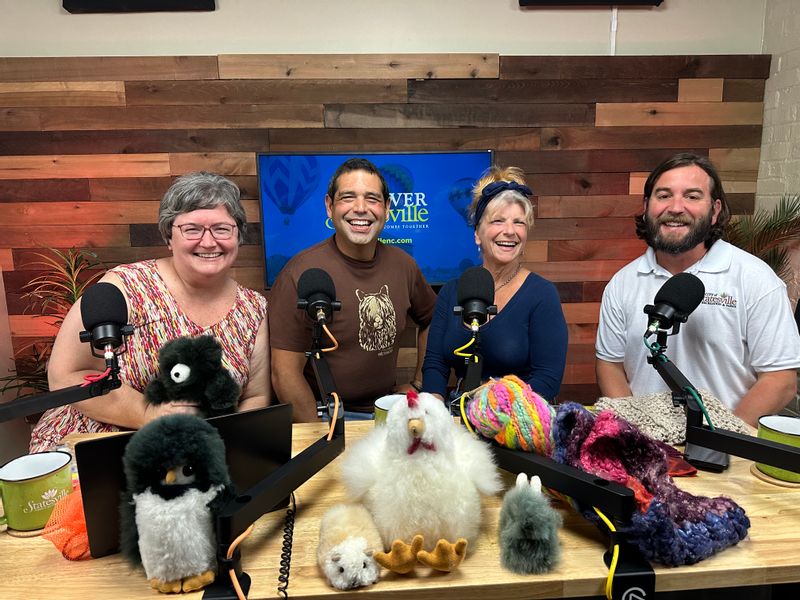 Once you've caught the alpaca bug from Val and Javi, prepare to be swept off your feet by the immersive alpaca experience at Camp Squirrel, nestled within the Serenity Alpacas farm. Imagine having the opportunity to feed and hug these furry wonders, and feel their luxurious fleece. Not only that, the farm offers a myriad of activities like paint parties and tours that are sure to keep you engaged and entertained. So whether you're an aspiring alpaca farmer, an animal lover, or just a curious soul, this episode promises to be an enlightening journey into the enchanting world of alpacas.
Watch the Full Episode:
Listen to the Full Episode:
Discover Statesville - The Show
Discover Statesville - The Show is co-hosted by Community Advocates, Richard Griggs and Cindy Sutton. This weekly show brings you the pulse of Statesville, recording live at various spots throughout Statesville, and in partnership with So Media Studios. Join Richard and Cindy as they uncover the hidden gems and local treasures that make Statesville truly special.
From the top notch attractions and exciting events to the remarkable individuals who shape the community, Discover Statesville promises to leave no stone unturned. Hungry for a culinary adventure? Tune in for their delightful restaurant reviews where they will guide you the best places to eat in town.
Whether you are a resident or a visitor, this show is your ultimate guide to all things that make Statesville great. You're invited to come along on this immersive journey as Discover Statesville brings you closer to the heart of our vibrant town. Be prepared to be entertained, inspired, and enlightened each week as Richard and Cindy share their passion for all things Statesville.
If you know of someone that would be perfect for our Discover Statesville Show, we encourage you to go to www.statesvillenc.com/contact-us to send us your or their information. Be sure to check out all the fun things to do here in Statesville, North Carolina.
---