Serenity At Stony Point Alpacas
---
North Carolina's Funniest Alpaca Farm Tours, Alpaca Products & Sales
"Every animal on this farm has a story," Javi Chavez says with a smile on his face. "We're here to tell those stories." Javi and his wife, Val, often have smiles on their faces. When you visit their farm, Serenity at Stony Point Alpacas, then your face, too, will smile. It comes from meeting the thirty-plus whimsical alpacas who live there. The shy animals are kin to camels, confused with llamas, and they show up curiously. They all have names. They come in many colors. They pronk about (that means "romp") as alpacas like to do. They grin their toothy grins, and then everyone just…smiles back, and your visit to family-owned Serenity Alpaca Farm begins in a very happy manner for all concerned.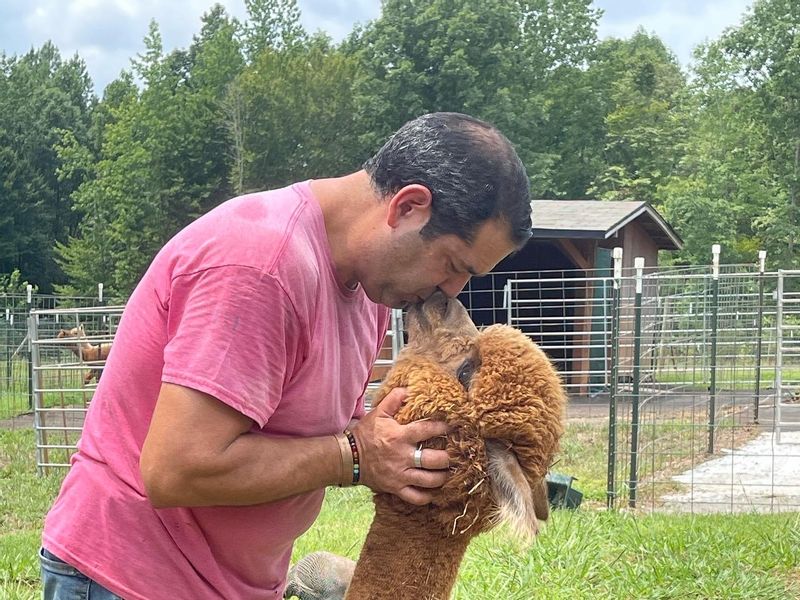 A Little History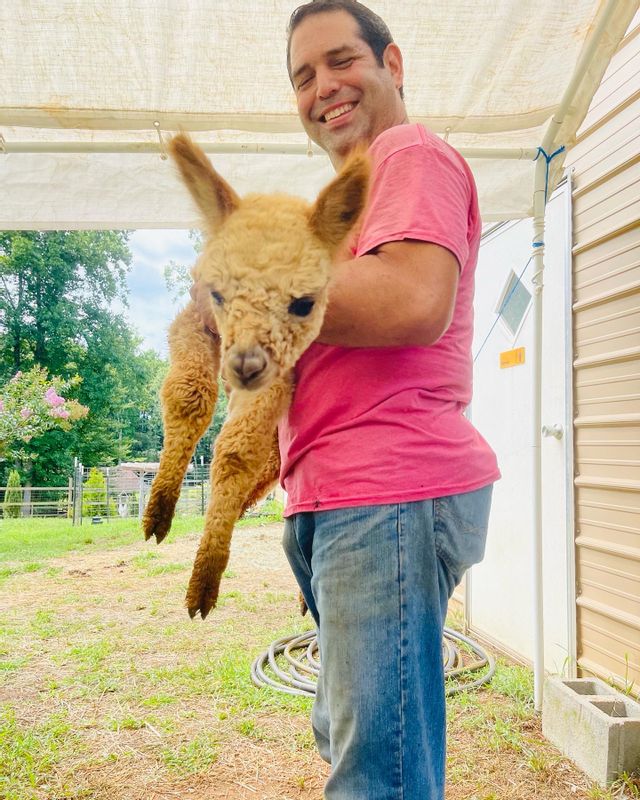 When you think of alpacas (Lama pacos), you might think of Peru where they graze on the level heights of the Andes in Southern Peru. Javi grew up in Lima, and as he tells it, "Even growing up there, I knew nothing about alpacas. Lima is a huge city, and just like New Yorkers who don't know the first thing about cows except which steak they like, I had not a clue about the care and feeding of alpacas, much less how to breed them or show them. I don't think I even knew there were champion alpacas to be shown!"
Javi ended up here in North Iredell honestly, by way of Belmont Abbey. He is a 1995 graduate and math major. He then moved to Charlotte, Mooresville, Statesville and now Stony Point. Javi and Val met well before 2008, when they decided to start a construction company, PMA Investments. "For Javi, this entire journey was all about downsizing from Lima, getting further out into the countryside away from the crowds, and getting back to something we were passionate about," Val shared. "We bought these beautiful 13 acres, and literally asked ourselves, 'What are we going to do now?'" It didn't take too long for Javi to realize his heritage could inform their decision: "Hey, I'm from Peru, what if we raise alpacas?" And it was that simple…until it wasn't.
A Lot Of Research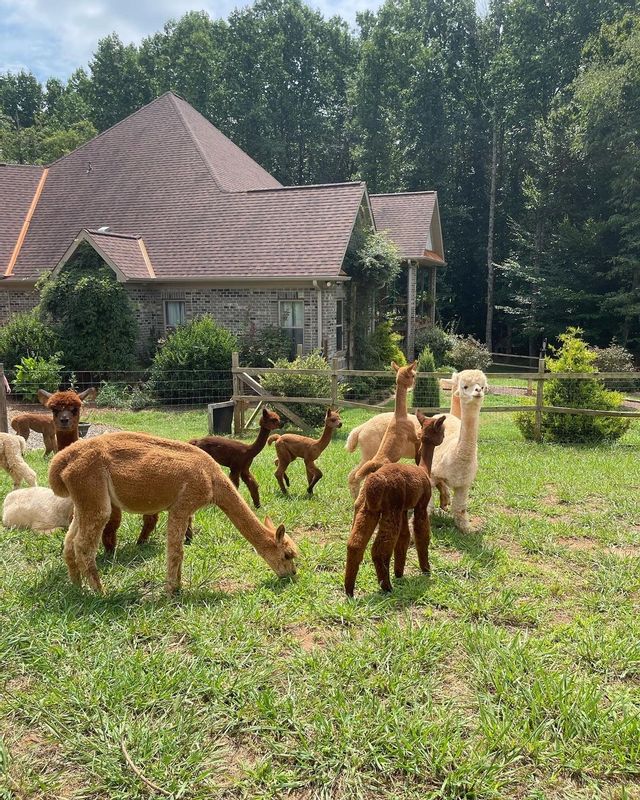 Val and Javi totally started from scratch. They didn't know what they didn't know. Things like, you can't keep males and females together or your will have too many alpacas too fast. They need their privacy due to the girls being "induced ovulators," but they are herd animals, so they don't like being lonely. "We got our first two males, then realized we needed another, then that became nine, then 13, then 30. We added females into the mix, and we've been very selective in purchasing all our animals so that we maintain a very high quality, quantity, and variety of fleece colors and types, as well as offering proven breeding services (male herd sires) for other alpaca owners. We studied all aspects of this industry to make sure our business would be sustainable, that we would be able to share our love of alpacas in this way with our community."
They quickly learned that local veterinarians' main focus wasn't alpacas, so they connected with the veterinary large animal teaching school at the University of Tennessee, a leader in alpaca knowledge, for help when a newborn was in distress. "They walked us through caring for her and trying to figure out what was wrong. We really rely on our relationships with these doctors…I think we're learning from each other."
Javi and Val sell alpacas, too…creative financing available. "We can mentor and guide each of our buyers if they need support with their new alpacas. The animal's wellbeing and full-potential development is the most important thing," Javi explained, "so we will not sell just one, unless you already have multiple alpacas of the same gender at your farm."
It's A Destination - Up-Close & Personal Alpaca Encounters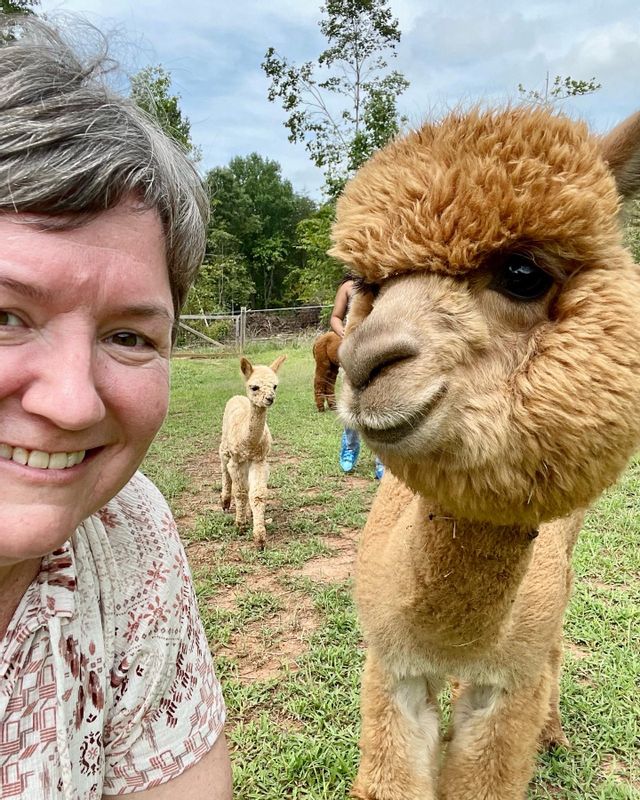 Can I visit Serenity Alpaca Farm, you ask? Yes, and there are fun reasons to do just that, besides all that smiling.
First, it could be a down-on-the-farm, wind in your hair experience for adults and kids alike. Tour Serenity, and you will fall in love! Your scout troop, 4-H club, your child's class, the garden club, family, and friends can schedule a hands-on, private tour of this working alpaca farm that will be educational, refreshing, fun, and unique. Your walk around the farm could include a picnic lunch joined by PJ, Pie, and Ketchup, a stroll by the spring-fed creek with the guinea hens, and a saunter through the barns and pens where all the action happens. Perhaps you'd like to schedule a paint & sip party with your girlfriends and, of course, with some alpacas! Unlimited selfies with alpaca photo-bombs!
The Fleece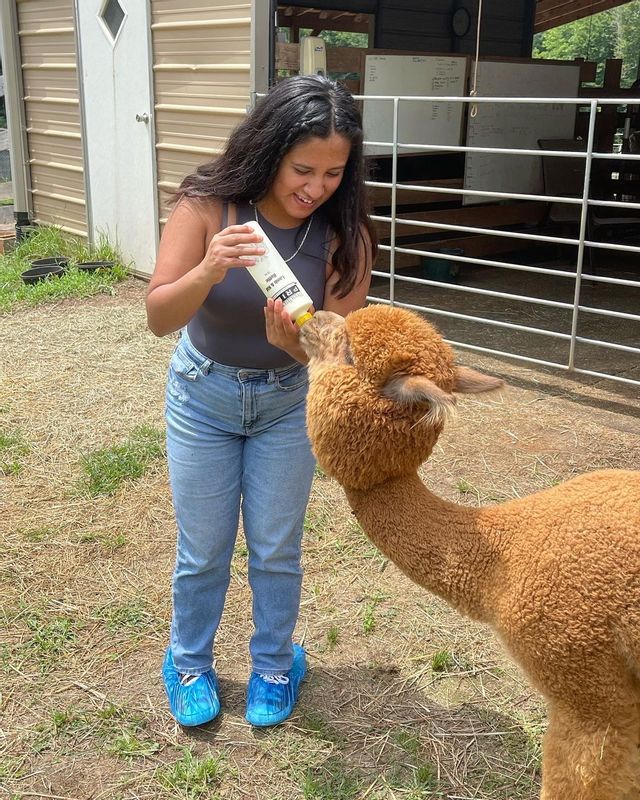 Alpaca fleece is prized as an extremely soft fiber that's woven, knitted, crocheted, and felted into clothing and textiles like blankets, ponchos, sweaters, hats, gloves, socks, scarves, goat-soap balls, and artwork. "We send our fleece off to spinners and dyers who clean it, comb and card it, then spin it into yarn for us, and we sell it by the skein or ball," Val explained. "We pride ourselves on the award-winning quality of the fleece we produce but we've learned that the better quality and texture of the fleece, the more nutrient energy the animal needs to expend in order to grow it."
Alpaca fiber is hypoallergenic, unlike lamb's wool, and fleece comes in 22 natural shades in more than 50 natural colors. Val sells products made from their own alpacas, as well as beautiful, imported, fair-trade alpaca clothing, textiles, and art in her online shop, too, supporting the Peruvian artists' local communities.
Sharing The Love
It's the animals who rule at Serenity. The 30 alpacas are guarded by the family's stunning Anatolian shepherd dogs, along with Jenna, their eight-year-old pit bull and Pepe, their Norfolk terrier.
Nature is everywhere around you here…the animals are happy to share their world with you. "Alpacas talk to us by humming and clucking," Javi said. "They make some specific sounds for breeding or when they are in distress, so we can communicate a bit. We love their gentle, calm nature. This is a labor of love for us, literally and figuratively…it's hard some days, so it's especially nice when your co-workers…the creatures we love…are peaceful by nature. It truly resonates with both of us."
Serenity At Stony Point Alpaca Farm
Javi and Valerie Chavez
226 Walker Valley Dr, Stony Point, NC 28678
www.serenityalpacas.com

---