Farming from the Heart — Windsong Flowers
---
Article by Kristie Darling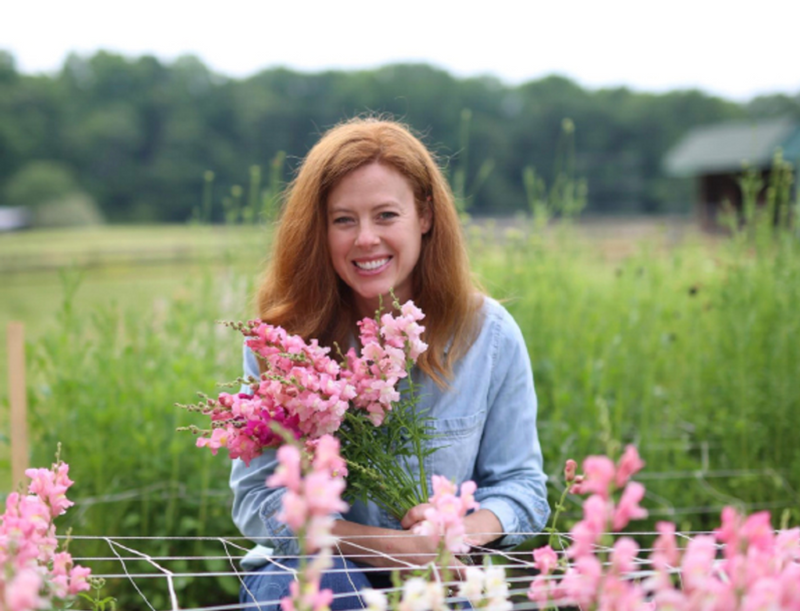 Farms come in many shapes and colors. For Catherine Furlong, operating a small flower business where she can grow and sell heirloom and specialty cut flowers is a love affair that stems from her earliest childhood days.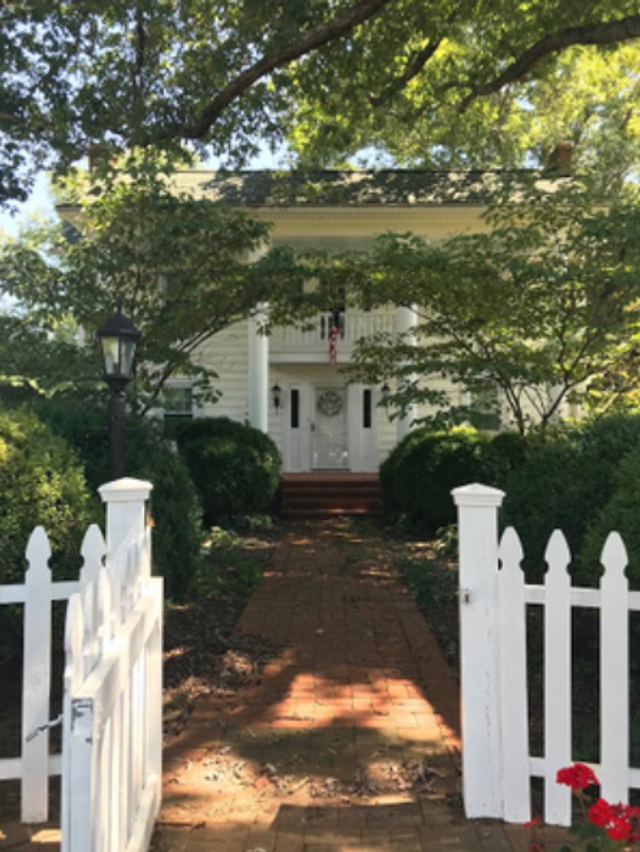 "I grew up here on my parents' horse farm, Amber Oaks Farm," Catherine told me. "My dad grew vegetables every summer, so I learned a lot about how gardening works at a young age. In 2020, I was looking for a way to take me back to my roots, so to speak, and bringing my girls out to their grandparents' house to help me plant flowers just seemed like the perfect thing." Catherine's parents are Linda and Walter Meadors. They live in a beautifully restored, late 1800s home in Cool Spring, just east of town. "The horse farm was winding down then, and now, we love all the flowers on the farm, plus having my daughter's family out here working is wonderful," Linda said. "She started out planting six rows and now has 18, with more to come. We are so blessed to able to do this together."
At the startup, Catherine did research by reading gardening and cut flower books, and still does, but most of her background in gardening is trial and error. She knew there was an opportunity for fresh, local flowers to make an impact within the community.  "Windsong Flowers was inspired by wanting to give back to the community through the beauty and joy of flowers," she said. "In early 2020, people needed flowers like crazy, for many reasons. I jumped into this opportunity not knowing what it would grow into, but I did know I wanted to try. I named the flower business after my horse I had for 20 years, Island Windsong…Winnie. It just seemed to fit."

Catherine is a teacher by profession. She started at Celeste Elementary right out of UNC-Chapel Hill and later taught at East Mooresville Intermediate. She's wife to Ryan, whom she met at UNC and mom to three little girls—Kate, the bookworm; Jane, art and animal lover; and Anna, the "lively one." Catherine began growing flowers with raised beds at her home in Cornelius. "Anna was a baby, so it helped me get back outside to enjoy nature," she continued. "The pandemic was in its early stages, and I needed a get-away for all of us. My dad was willing to let me come out and plant bulbs and seeds in his garden beds, which has since grown into even more rows in the front paddock! He's been my mentor and Mom is my cheerleader and sometimes babysitter. This farm really has become a sanctuary for my family, and now, my growing business."
An Inspired Business Plan
Windsong Flowers has a business plan that is unique, but perfectly suited to her mission. Her sales and distribution system is simple:  drop by the Windsong Flower Farm Stand at the corner of Wild Oak Road and Oak Forest Drive (off Highway 64 East) or sign up for a seasonal subscription, when available, on the Facebook or Instagram pages.  But first check for posts about daily/weekly flower availability.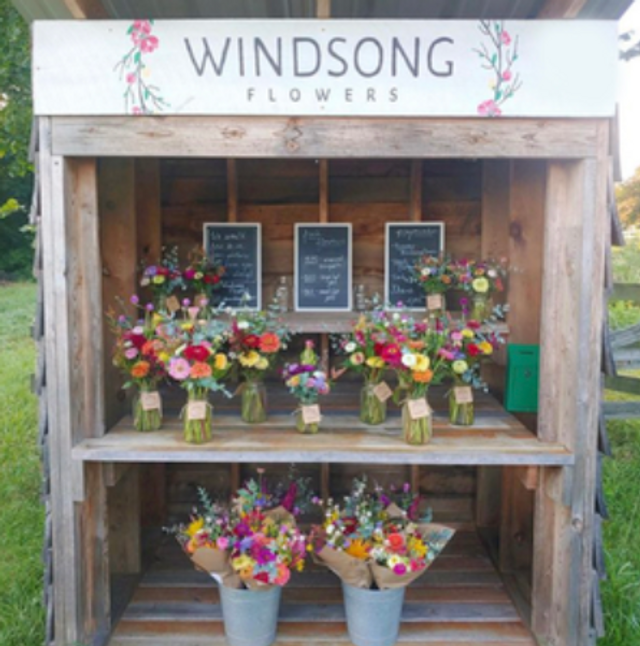 "When California shut down in 2020, my brother, Philip, drove back home and built a roadside stand as my place to set out jars of flowers and bouquets to be purchased and picked up," Catherine explained. At the Farm Stand, you'll find a rustic, open-door booth waiting for you to choose from bouquets, quart and pint jars of flowers, or seasonal pumpkins and wreaths that Catherine has on display. "I use the honor system. Customers come by, choose their favorite flowers, and pay by cash, check, or Venmo once they've chosen what they want at the stand." This allows customers to take their time choosing the flowers that suit their needs when thinking of friends and family.
The farm stand is open as flowers allow—a truly seasonal, local flower approach. The flowers are harvested, conditioned, arranged by Catherine, and then available for purchase.
In addition to farm stand days, seasonal subscriptions are offered on Facebook and Instagram in spring and fall when signups are available. Once signed up and confirmed, your subscription flowers are picked up at Lake Mountain Coffee Shop downtown. Check this out sooner than later, the slots will fill up! Catherine's Instagram site is overflowing with fabulous flower photos, family pix, and news of what's happening at Windsong Flowers.
Catherine sometimes invites professional photographers over to use a seven-acre field planted with wildflowers, sunflowers, and zinnias throughout the season. This serves as the backdrop for family portraits and mini sessions. "The idea is to share the beauty and give photographers a natural setting for their sessions," she told me. "It's all by invitation and appointment. The photographers, the families…we all love seeing the results, and we've found that families really enjoy their time in the field."
Catherine explained how she manages flower surplus and imperfect flowers. "If flowers haven't sold after a day or two, we donate them to Brookdale Senior Living for their dining room or other places where they will be appreciated." She might select a local school to pass along the flowers for a special teacher or volunteer to enjoy. "The most important thing for me is having our girls see what we're doing and come alongside us…a valuable life lesson."
What's In Bloom?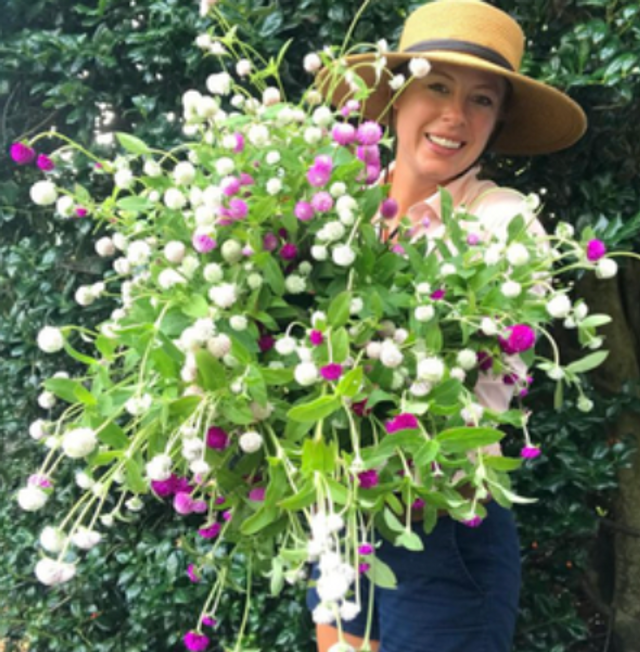 "Every week something new comes up," Catherine said. "I like the flexibility of annuals that can be adjusted or changed each year as needed. I've planted more daffodils and tulips this year along with roses, peonies, ranunculus, anemones, dahlias, poppies, bachelor buttons, snapdragons, rudbeckia, bee balm, and other varieties. Eucalyptus is a fun design addition that will be ready soon. Zinnias come up June through fall, and everyone loves summer sunflowers. I keep trying new flowers to see what works best."

Catherine is a nature lover and flower enthusiast. Her daughters are learning many lessons watching her create a tangible way to show love to others, appreciation for growing things and caring for our planet, and for what it's like to start a new business on faith. "I feel grounded here in nature and working in the garden," she said. "It has been such a blessing to both our family and our community as we continue to grow and learn from the natural ebb and flow of the seasons. We've met friends and neighbors as well as taken notice of the small moments—bees and butterflies working, birds singing in the fields, and so much more. I am thankful each day that I have this opportunity to grow flowers, here, where I grew up."