We are the Doctors of Displays! - Personal Handcrafted Displays
---
Article by Kristie Darling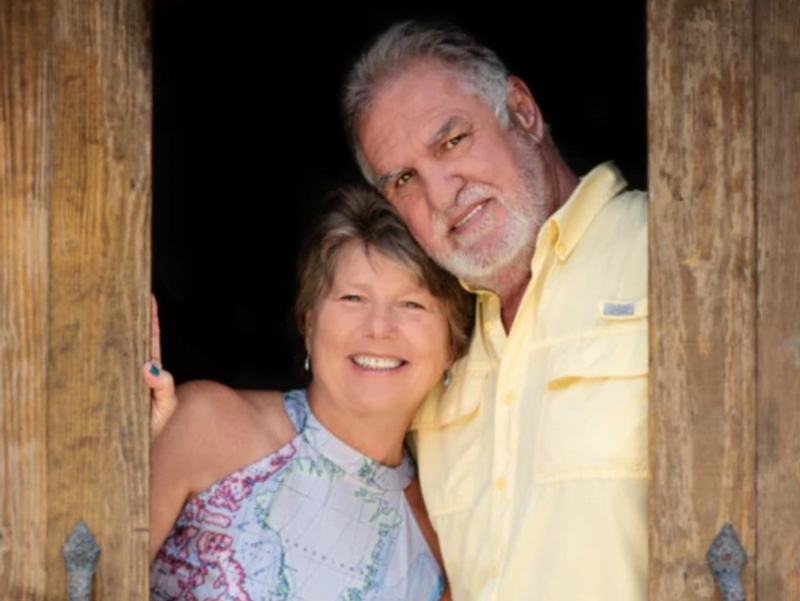 How many times have you spent too much time thinking about or searching for the perfect personalized gift, custom-made display, keepsake, or unique piece of art? The task can be daunting, especially when thinking about your own requirements or something special for someone who has everything? Search no longer, I know where you should shop! 
Personal Handcrafted Displays is a "made in Iredell" destination not to be missed. On Troutman's Main Street, PhDs has what you're looking for…very Personal, beautifully Handcrafted…and now on Display in their fabulous gallery and shop. It's like walking into an overflowing showroom of handmade delights. The variety of items that can be personalized and created especially for you is tremendous. The trick is picking out what you want! 
"We invite people to come see the studio, not just to shop, but for the experience, for the adventure," said owner Kelly Minyard. "There's so much to see…everyone on our staff is an artist, and we carry original works by some of our finest local artists. We want people to see how we make things. Visitors are amazed at the high-quality handcrafted items we carry." For instance, the wood turned, maple cowboy and outback hats, crafted by Kelly's husband, Ken Minyard, and Brian Butler. These one-of-a-kind hats are lightweight, wearable, and quite handsome."

Custom Laser Cut Maps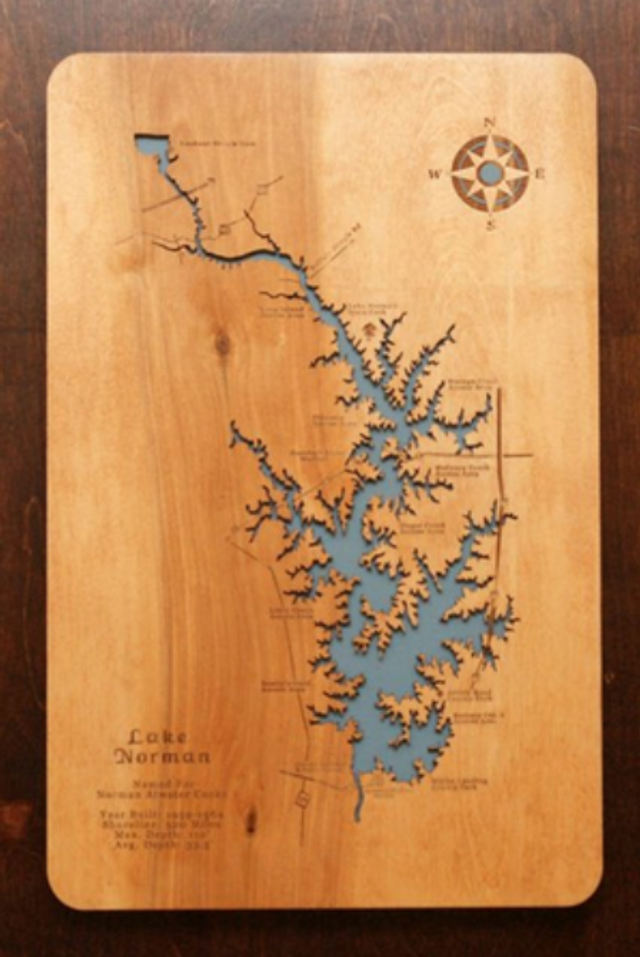 "Our most popular items are our maps," Kelly told me. "They are made from beautiful birch plywood. Natural variances in the wood grain ensure a unique work of art. Once the map is cut, it is hand sanded multiple times, mounted on a blue board to highlight the water, and given a clear coat for a lustrous, wood shine." Designing maps is like a geography lesson for PhDs' designers every day. Satellite imagery allows them to create maps worldwide. Over 1,000 different lakes, rivers, and coastlines are available. "We just shipped one to Russia of Lake Baikal!"
These stunning maps are custom ordered of most any lake, river, or shoreline. In fact, there's a map in the showroom of every major river in America that is quite impressive. Boaters, sailors, homeowners, beach lovers, businesses, anyone with a nautical passion will love a laser cut map of their favorite water playground.
Wedding and Event Specialists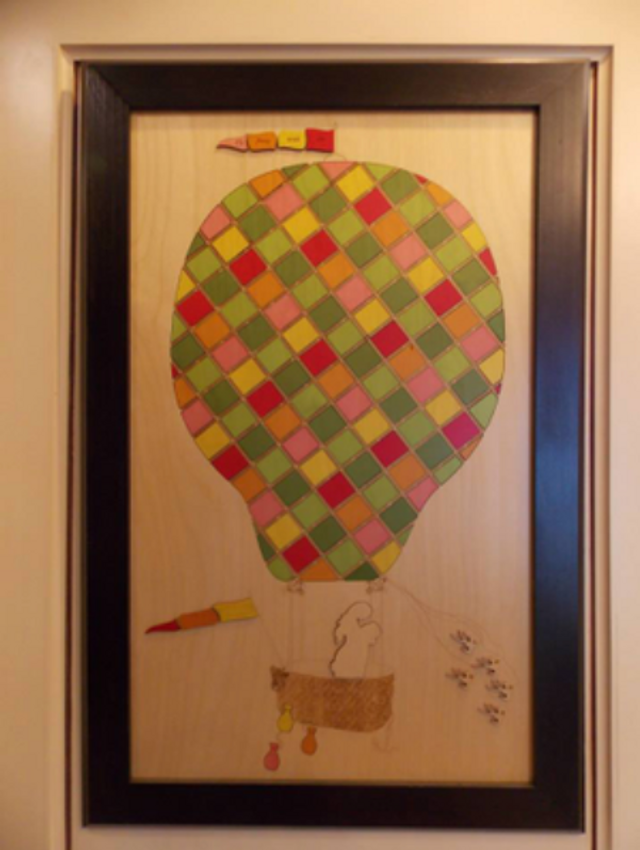 The laser cutters are also put to excellent use creating the most unique guestbooks ever! The idea is like a puzzle…pieces are cut to suit a particular design (I liked the hot air balloon and the drawing of holding hands) and then given to wedding guests to sign and share their love. "The customer then puts the entire puzzle back together," said Kathy Weatherman, "in the frame as a collection of all the well-wishes of family and friends. We always tell folks, if you can imagine it, we can make it!"
Fine Arts and Crafts
"The local artists' work we display in the shop is exceptional," said Kelly, "plus we share our employee's own creations. Kathy and Michael are examples—Kathy's not only the studio's web developer, she creates jewelry and quilts. And Michael Putbrese keeps the woodshop humming!  He makes frames, assembles and sands maps…his stylized wooden American flags are amazing!" 

PhDs' artists include:
*Andy Phillips, a retired master welder who creates unique metal designs. His squirrel sculpture has 1,300 nails just in its tail!
*Artist Bill Graf specializes in carved and painted driftwood pieces, many with an animal theme.
*Brian Butler enjoys creating usual wooden bowls, vases, urns, walking sticks, but he is most famous for his wood cowboy hats.
*Jane Cherry creates beautiful sculptures from driftwood she finds while paddle-boarding on Lake Norman. Each piece can take from 100 to 150 hours of scrubbing, sawing, sanding before the image emerges.
*Ric Erkes is a talented wood turner who has studied with the masters over his career. 
*Robert Oliphant hand weaves beautiful baskets, bowls, and platters from pine needles.
*Sue Zylak is an award-winning artist who specializes in the Old Master style. Her works are in numerous private collections.
DIY Paint Parties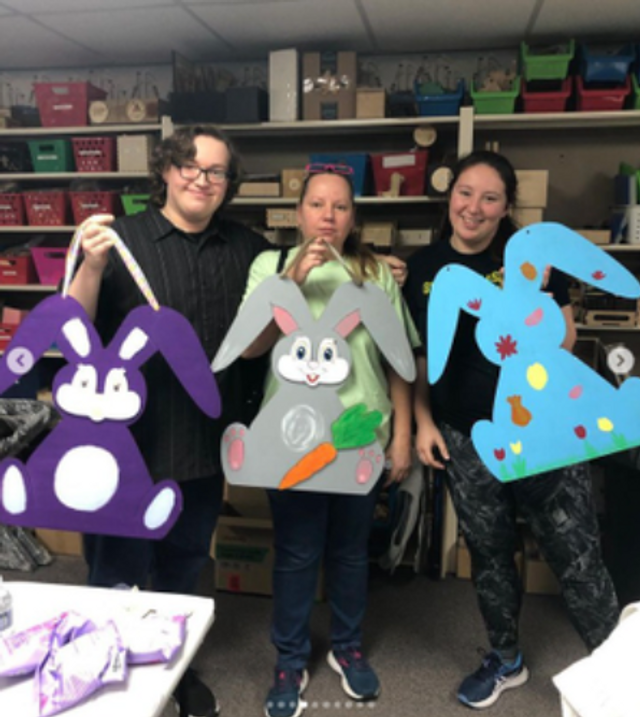 PhDs has taken this popular idea to the next level. Again the idea is, "If you can imagine it, we can help you create it." Adorning the walls in the studio are colorful pet portraits and DIY crafts. Kelly explained. "The party area is behind the scenes, in our studio.  Hundreds of cutout shapes are available, such as barn quilts, monograms, door hangers, room signs, and plaques…so just call to talk about what you have in mind."
An Art Gallery, Craft Store Like No Other
My tour of PhDs meandered from the storefront/gallery, through the laser room, the assembly area, a massive space for parts, supplies, and inventory, to the craft tables for parties, and into the impressive woodworking studio. The building is full!
It would be impossible to call out everything at PhDs…from laser cut greeting cards to life-sized animal sculptures, suffice it to say, a visit is really what's needed. Before you go, visit personalhandcrafteddisplays.com to get a feel for the place and think about what you want to look at most. Several visits are recommended. As Kelly explained, "It's an experience we want to share…There's so much talent represented here, and our job is to spread the word and share the love!"
Located at:
693 N. Main St.
Troutman, NC 28166
704-528-2600