Richard J. Harris, A Beloved Statesvillian
---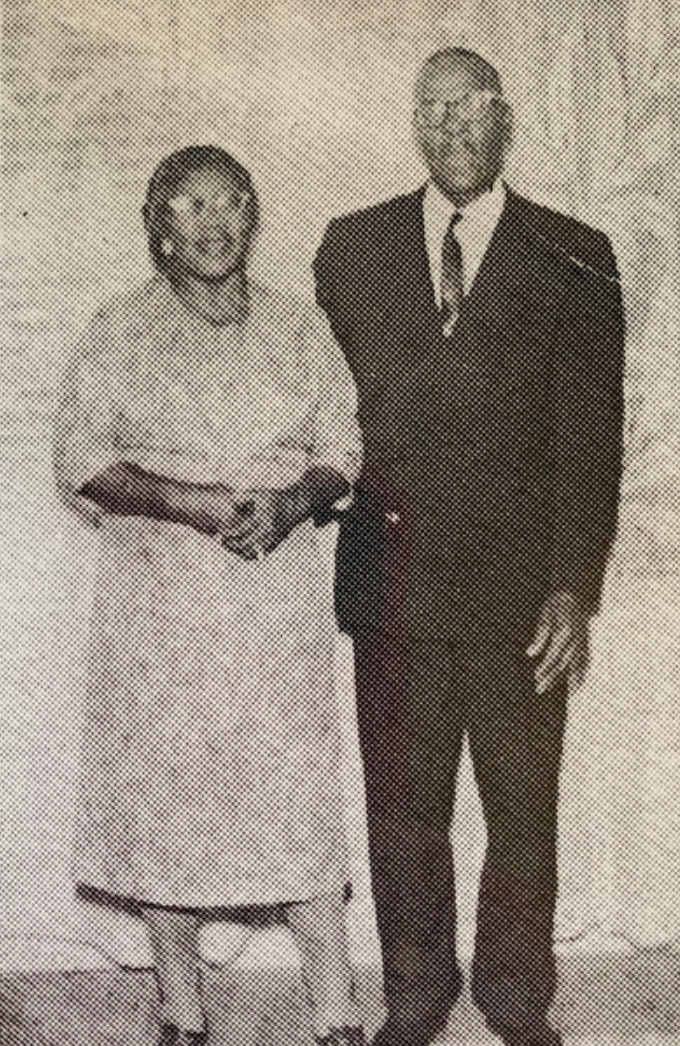 From the book Preserving Our Heritage Copyright © 1998 Republished with permission from Secure Development Corporation

A young lad, but 17-years-old, left the sharecropping life of his parents near the country hills and valleys of Beaver Creek in Kershaw County, S.C., armed with a sincere and strong faith in God to become a productive citizen of Statesville, N.C.  This phase of his life was occupied with earning a meager livelihood, but little or no time was found to complain.  Instead, he constantly searched for ways to elevate his status, as well as those around him.
Around 1918, Mrs. Moore, operated a hotel where Richard James Harris resided temporarily.  She stopped his daughter, Janie, one day to explain to her how meticulously her father kept his room and his laundry – how well-groomed he was in spite of having to wear his only suit and his only white shirt each time he attended church functions.
By persevering, he found the means to move to the Sunnyside community, where after doing odd jobs, he entered the business world on a small scale by operating a sandwich and coffee café.  Upon residing in this community for a few years, he then relocated to what is now known as Harris Street, a place which was not very populated.
This was the site where he and his wife, Mary Jane Smith Harris, chose to build their own home and to rear their five daughters, Janie Elizabeth Harris Jones, Melva Mae Harris Saunders, Ruby Yvonne Harris Thomas, Rosella Harris Pierce Vaughn, Ada Roberta Harris Morrison and their son, Richard James Harris II.  Twin sons and another infant son died at birth.
By seizing every opportunity to "make hay while the sun shines," he continually studied ways to enhance the comfort of his family and his niche in and around Iredell County and adjoining counties, by improving himself.  It was this frame of mind that he eventually became self-employed as a contractor of "better concrete jobs" which he referred to as a "labor of love."  His motto of doing well in all endeavors was translated into all of his undertakings.
By keeping his "eye on the prize", he was able to enjoy a comfortable living.  He was able to further the education of all of his children at his beloved Livingstone College.  Ada Roberta chose to go to Mecklenburg College.
R. J. Harris' meritorious services were documented in many areas of this community.  His final honor was for services rendered as president and treasurer of the Layman's Association of the Statesville District of the Western North Carolina Conference.  Mt. Pleasant A.M.E. Zion Church hosted that occasion.  Brother Harris was a faithful, dedicated and loyal member and participated in the majority of the church's activities and organizations.  His willing servitude toward the glorification of God and the edification of the church included serving in the Sunday School department; trustee and chairman of the trustees; steward and class leader.
His civic services included serving on the board of trustees, Livingstone College; trustee, Camp Dorothy Walls; board of trustees, Iredell Memorial Hospital; president, Statesville Branch of the NAACP; member of the Statesville Housing Authority committee; reporter to the mayor on the progress of recreational facilities in South Statesville.  
The late Richard Harris saw the need for a modern elementary school for children in south Statesville.  Numbers of small children crossed a busy highway and the Southern Railway tracks daily.  He feared for their safety.  Harris's dream did not become a reality because of a changing social order. However, R. J. Harris Park was built on the site and was dedicated to his memory, for his civic, social, fraternal and religious efforts to improve life in the African American community.
Wisdom, strength and beauty were earmarks of his character in his pha with Mt. Carmel Lodge #37 where he served as Worshipful Master and Grand District Deputy of the 26th District.
After the death of his beloved wife, Mary Jane, he remarried Carrie of Kentucky.
The life of Richard James Harris, Sr., which began on August 13, 1901, was one of sterling principles, one of firm convictions; one of beauty and exemplary of Christianity; one of a diligent craftsman, one of leadership; one of a courageous exponent of education and civic advancement; one of a dutiful husband and a compassionate father until his death on July 15, 1973.