Skincare With a Purpose
---
Article by Catherine Diehl
In a world full of toxins, it's hard to know what's truly good for you. Tammy Wilcox, owner and creator of A'lia Pure knows exactly how scary things can get when the things we use on our body become too toxic for our body to endure. Years ago, Tammy experienced a life altering change that almost took her life. She went to have her hair dyed when she started experiencing an allergic reaction to the hair dye. She went to the hospital to figure out what was wrong, and while "the doctors were trying to figure out what was going on with me, I had another allergic reaction to the MRI contrast they put in my body. The contrast has a heavy metal in it called gadolinium and my kidneys shut down. I almost died." The gadolinium metal stayed in her body causing her to develop an allergy to metals. "Within the 7 month course, I could hardly remember anything, I couldn't function, I couldn't walk, I couldn't do a whole lot of anything, because the reaction kept making my body go kind of crazy. It attacked my nerves in my body so I couldn't function," said Tammy.
The effects of her allergies didn't stay buried inside her body. The symptoms started unveiling their truest colors as her scalp became swollen, knots found themselves on her head, her hair started falling out, and blisters and sores pained her feet and legs. Despite all of the signs begging to be understood, the doctors still couldn't figure out what was wrong, so they sent her to an allergist and the doctor said, "well if you have an allergic reaction on your head, it isn't going to affect the rest of your body," but as it turns out, it does because it threw her immune system into chaos causing her to develop an autoimmune disease. The doctors started her on medicine and she had everything under control, for a while.
Things aren't always what they seem
The Florida heat was at its usual warmth while Tammy walked around exploring shops. She went into a shop that sold all natural soaps and shampoos, at least that's what they said. "I purchased someone else's shampoo that was supposed to be all natural and sulfate free, and 20 minutes after I put it on my hair, my eyes started swelling, my lips started swelling, and my scalp started swelling and I had to immediately wash it out and take some benadryl, and after three days, I could barely walk because it ignited my autoimmune disease," said Tammy. When she returned from Florida, she called the doctor and she had to have a round of prednisone, which is a steroid, and still had to increase her medicine because she could barely walk. "This is just an example of how easy it is to get something and someone sits there and tells you that it's perfectly natural, when it isn't," Tammy said with a smile that had a subtle tone of understandable anger. She went home and googled what their ingredients were, because it was on their website, but it wasn't on their products or in their store and their staff weren't educated, and because of her outbreak and the store's transparency not being so transparent, Tammy decided to start her business.
"I had to start reading ever label in order to keep from having an autoimmune disease attack, and even reading labels, they don't have full disclosure of what's in the product. There are certain percentages they don't disclose in your makeup, like nickel- they don't have to disclose nickel if it's in a certain low percentage, so that's what made me start making my own makeup, too," said Tammy. 
Products that are more than just products
She makes shampoo, conditioner, perfumes, hair oils, face wash, makeup, and body wash, and with her background in nursing and a passion for research, she's able to create products with true health benefits and kind ingredients. "When I started making the products for myself, of course I wasn't thinking about selling it. I made it for personal use because I know what I'm putting in it and I know what I'm allergic to. I can pronounce the words for the most part of the oils or butters that I put in my products. I do use some more natural alternative products, as opposed to even silicones," said Tammy. She uses oils or alternatives that can replace things like silicones, because "I don't want that on my hair and I don't want formaldehyde, which is in almost every bottle for a preservative. I might not be allergic to it, but my body doesn't want it," so she uses more plant based alternatives that are more natural. "It helps me control what goes on my body," said Tammy.
Tammy has a deeply rooted passion for the environment, and that passion has been intertwined with her products, making everything environmentally friendly. She makes her shampoo, conditioner, soap, and other products without bottles, eliminating the use of plastic. "I can make almost every single product that is used in the bathroom into a non-container friendly product," said Tammy as her passion for helping others and the environment took over the room. Not only are her products environmentally friendly, but she makes one shampoo bar so concentrated, that it can be equal to two to three bottles of shampoo bottles. With a normal bottle of shampoo, you're buying a plastic bottle full of water and a little bit of product, but with A'lia Pure, Tammy takes the product and concentrates it into a small bar, so one bar of shampoo can replace two to three bottles of plastic, and it's the same with the conditioner, equallying a total of 4-6 bottles of plastic that don't get used, which is a huge win for everyone. Not only are you getting natural products for your body, but you're also decreasing your carbon footprint in shipping and with each use. "I study the product and I can make a really good product that's good for almost any hair type and I know what's in it," said Tammy, and with her nearly wrinkleless skin and soft hair, it's clear that her products work. Her passion for people is obvious as she owns and operates her own healthcare business, and uses her A'lia Pure products to help raise money for nonprofits.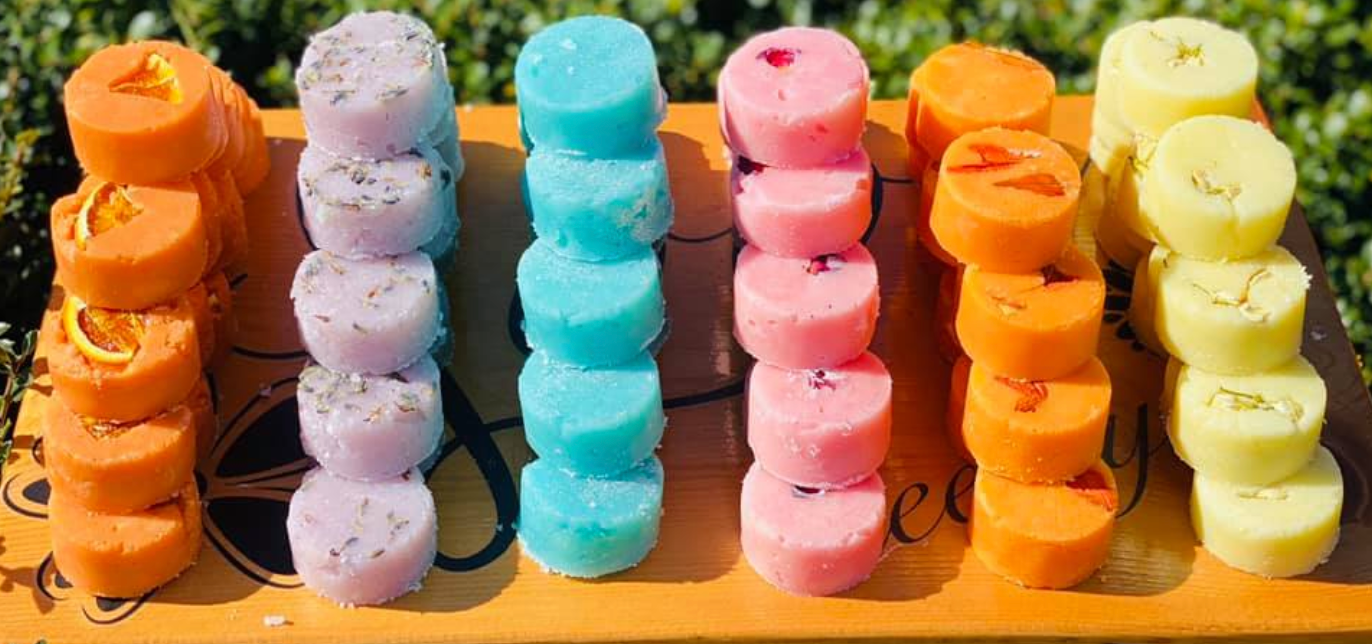 Take care of who you are and where we live
Tammy's background as a registered nurse plays a huge role in her work, and her passion for helping others and creating products that aren't only less toxic products for herself and others, but also for the environment, are what drives her work and purpose. Be sure to purchase some of her products if you want products that are safe for you and the environment, shampoo and conditioner that will make your hair feel and smell like rose petals, makeup that's kind for your skin, and face creams that will dissolve wrinkles from your well-lived face.
If you would like to purchase her items, visit her A'lia Pure website to order online or give her a call to set up an in-shop private consultation.