Seasons May Change, But Memories Last a Lifetime!
---
Article by Catherine Diehl
Howard Family Farm - Harmony, NC is a place that changes with every season, but the one thing that never changes is the laughter and joy that is created here. As you pull into the entryway, it's easy to see how this farm has been built from the love of a family, but not just any family- the Howard Family. The roots run deeper than what's in the soil, and after three generations of Howards running this farm, memories make up every inch of The Howard Family Farm. This is a place where families bring their children to pick buckets of strawberries, and where the innocent giggles turn into clothes covered in dirt and strawberry hues. You can feel the laughter radiating from the ground, and the joy the Howard Family Farm brings to so many people, you can't miss a single season that comes to life here, especially their tulip season. A few months ago, the fields were covered in the most vivid colors, but as the fields now lay empty awaiting a new batch of life to bloom, red, pink, yellow, and white tulips tease the field's memory wishing it was spring again.
Tucked Away in Harmony, North Carolina
The farm is tucked away in Harmony, North Carolina, which is fitting to the personalities of Brian and Amy Howard. The Howards are welcoming, warm, giving, reserved, and kind, matching the beauty of what their family farm represents. They raised their two children here, Will and Karlie, each with a personality of their own, and with roughly 100 acres of self expression, the Howards are always making sure their focus is geared towards the community and how they can best serve others.
With each changing season comes new life, new possibilities, new roots being planted, and new memories being made with every family that visits the farm. Although 2020 was nothing short of unanswered questions, the Howards reached above expectations in order to provide answers, or at least comfort, to the community. That year was the first year they ever brought in products that they have not grown themselves. Why then? Because so many people were running low on meat, milk, bread, etc., and to the Howards, the best way to provide for their community was to outsource goods, while still providing their delicious fruits and veggies. The Howards didn't stop here. They had gleaners, self-propelled combine harvesters, and the Carolina Farm Trust, who works with farmers to bring fresh, bountiful, locally-grown food to your plate, come out to the farm in order to take food to people in need. Not only did they provide for their community in the most selfless and heroic way, they also stayed strong with their desire to bring happiness to those around them. 
Fun is in Bloom
The sky was cloudy when we met with the Howards, but it was easy to see the yellow beaming from the back of their farm. Tucked in the back is the most beautiful field of sunflowers just begging for their beauty to be seen. "As long as they're here, anyone can come pick them," said Brian, and the sunflowers are itching to find a new home, especially after the Howards put so much effort and faith into this batch. Amy and Brian mirrored each other and said, "we were really pleasantly surprised with how they turned out. We weren't expecting them to be this beautiful," and they are definitely beautiful, but you should come see for yourself!
Once you pick your sunflowers, be sure to explore their quaint market store located right on the farm. As soon as you walk into their market store in the Fall, your eyes are instantly drawn to their pumpkins, but some may call them pure masterpieces, it's hard not to. It's hard to believe they are real, let alone came from a bland 'ole seed! The colors of their pumpkins are vibrant and filled with a whirlwind of awe. You can find the original Jack-O-Lanterns in all shapes and sizes, as well as their decadent Heirlooms. "Pumpkins are my favorite because they're so different," said Brian, and honestly, you can't help but look right at them in a brand new wave of amazement.
When October Arrives
With pumpkins filling up their fields and market store, it means October is arriving, and it's the season for some fun at the Howard Family Farm. Almost all of the Howards agreed that it's their favorite time on the farm, except Will whose face was filled with laughter after he said his favorite time is winter because he doesn't have to do anything. Karlie said, "Fall is my favorite time because of the pumpkins, hayrides, and everyone comes together. It's just so pretty."
Fall truly is a magical time at the Howard Family Farm, and this year is no exception. Amy's face lit up with anticipation as she pointed to the field where the corn path will be. The farm was decorated in an American theme in 2020, with the Avengers protecting the farm in the form of hay bales that have been hand painted to match the characters. Hulk stands about 10ft tall and is definitely ready to bring the "Hulk Smash," as he so effortlessly does. Every family was treated to their own wagon for the hayride to create lasting memories before winter comes!
Everything Has a Beginning
As fall ends, it will all start back at the beginning, but after three generations of this farm being a part of the Howard legacy, the new start is nothing this family isn't used to. One of the sweetest times on this farm is arguably when the strawberries' lavish red hues take over the fields and its sweetness fills the air. Great-Grandfather Howard used to have these fields covered in tobacco, but in 1985 Brian's parents, Mike and Trudy, started sharing their decision to grow strawberries. Easily one of the smartest decisions they've made, because people travel from all over for the best tasting strawberries around. The love for catering to others started with Mike and Trudy and their decision to change course, and even though Mike's parents said he was crazy, he said, "I'm thankful we did that. Tobacco's no good now. We're able to raise food, and everybody's got to eat." Now, over 35 years later, the Howard family continues to provide for others, and the legacy gets sweeter and sweeter every year.
With fresh crops and pick your own flowers events, the Howards have their work cut out for them all year long, but it's easy to see that the joy and laughter that their customers experience, makes all the hard work worth it.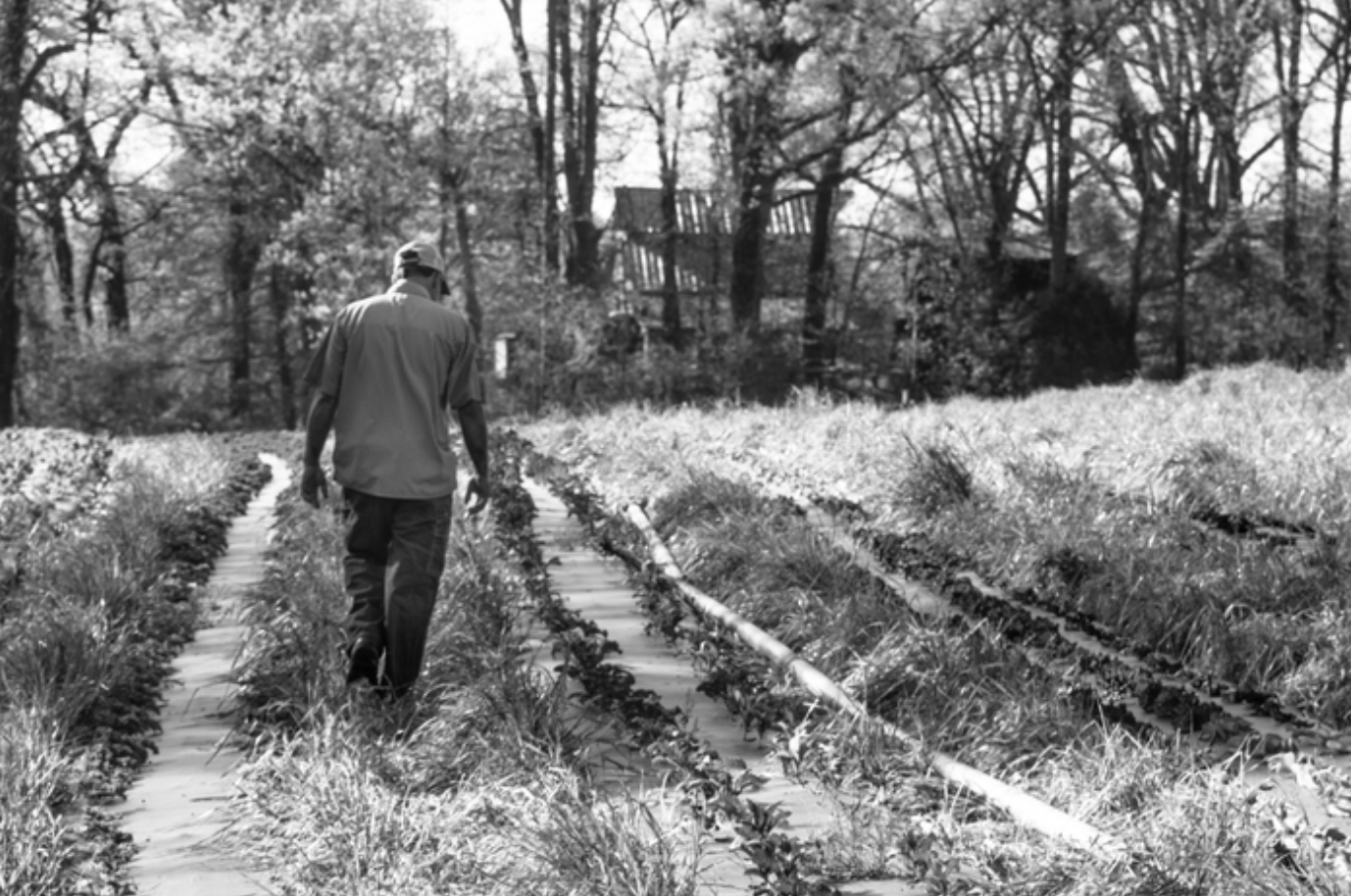 Making Memories
The Howard Family Farm is a place to make memories, a place for little boys and girls to eat strawberries straight from the vine and make a mess of themselves and their faces, a place for teenagers and adults to be kids again or take great pictures, and a place for memories to live on for years to come. A place where the memories are so sweet that you come back as an adult to relive them, and create new ones. It's not only a farm, but a livelihood that has been created, built, and crafted into a space for a community to come together. The Howard family has built a legacy not only for themselves, but for everyone who steps foot onto their farm. 
Each Fall, their market store is filled with produce, the most delicious pickles, meats, cheese, milk, veggies, other delicious products, and of course, beautiful pumpkins. The first week of October is when Howard Family Farm Fall festivities will begin and we really hope to see you there!