Family Meals Made With You In Mind
---
Meet Burger Barn Owners Andra and Jimmy White in partnership with Andra's parents, Lewis and Rachel Myers.
Article by Alexis Mason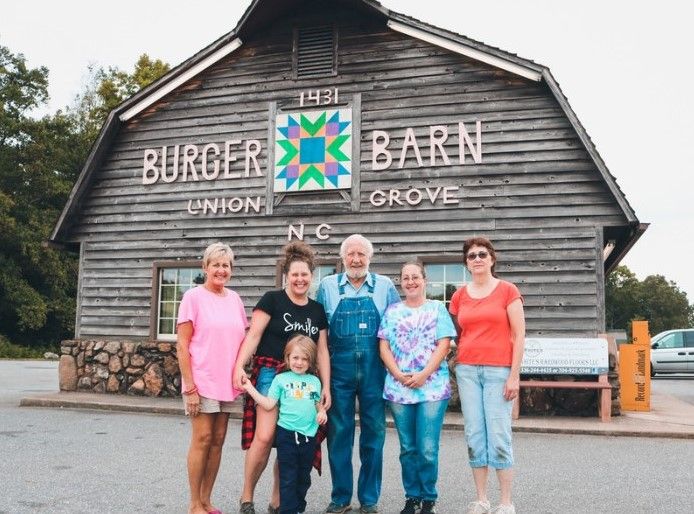 In the America that we know today, it is rare to stumble upon an area not yet touched by commodities such as fast-food restaurants, megastores, and chain retailers. It is rare to visit a place that has not yet been transformed by the hustle and bustle of the 21st century. In the northern portion of Iredell County sits a township called Union Grove. They are the rarity mentioned above. 
Exit 65 on I-77 is the primary access point to Union Grove. Since 1982 there has been an interstate beacon for many travelers located within the township. Burger Barn is one of the only restaurants for miles that is immediately accessible from the interstate. Taking a step across the threshold of the restaurant feels like taking a step back in time. 
Family Owned and Family Ran
Burger Barn is a family-owned business that was opened in 1982, as stated above, by Andra and Jimmy White in partnership with Andra's parents, Lewis and Rachel Myers. Currently, Andra's sister, Sherri Adam's is the figurehead at the helm of the business. "There was nothing in this area, and we thought it would be a good idea to bring a fast food joint to the community," said Adams. 
Adams shared that the mid to late '80s were a really interesting time for their business. Many popular NASCAR drivers visited Burger Barn regularly. "Rusty Wallace likes to come in," explained Adams. "He actually came in to eat the day after he was inducted into the NASCAR hall of fame." Other drivers who have visited the establishment include Dale Earnhardt and Ryan Newman. 
Due to the famous visitors, one of the appeals of the restaurant became its NASCAR memorabilia. Guests can take a lap around the dining room and observe nifty posters from the '80s and '90s; some signed by the drivers themselves. Burger Barn also displays newspaper clippings that highlight athletes from the local high school. "It's the posters and the old feel. People look for it in our place," Adams shared. 
Another appeal of the establishment is actually its large parking lot. Lewis was a trucker himself many years ago, and he wanted to provide a place for truckers to eat and park if needed. "My father was very open-minded about truckers compared to others, mostly because he was one," included Adams. "He wanted our establishment to have a big parking lot so they would feel welcome."
Burgers and Breakfast
After sharing the history of the business, Adams shared that their most popular dishes were predominantly items from their breakfast menu. Breakfast time is when Burger Barn sees its largest rush of customers throughout the day. They offer many traditional breakfast options, including biscuits and gravy, breakfast sandwiches, hash browns, and egg plates. 
Adams stated, "One of our best selling dishes is our biscuits and gravy, which is made from scratch every morning. We like to make sit down meals where people can eat and be together. Our breakfast sandwiches and biscuits are also another fan favorite."
The establishment has plenty of regulars, but they also have people from all over who stop by to visit. "One time we had a group of young people come all the way from Charlotte to eat at our Burger Barn. When we asked them why, they explained that the movie, What's Eating Gilbert Grape, had a Burger Barn in it. They just wanted to see if ours was similar, and we thought that was pretty cool." Adams shared. 
Over the years, Burger Barn has been able to weather the test of time. Adams attributes their success to the community, as well as their excellent staff members. She added, "We are thankful and blessed. Our people and our staff are all to thank for our longevity. We really haven't had a whole lot of turnover."
"We hope to hold on as a business. My hope is that the business remains family-owned... But we've been blessed and there's a lot to be thankful for," Adams concluded.